Decoder/Demodulator decompresses digital broadcast signal.
Press Release Summary: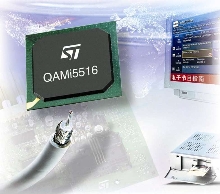 Suited for digital cable set-top boxes, single-chip Model QAMi5516 allows viewers to watch digital cable TV channels on analog TV by performing functions of QAM cable-signal demodulator and MPEG video-stream decoder. Pin-out of device ensures that 2-layer printed circuit layout is possible despite functional complexity of set-top box.
---
Original Press Release:

STMicroelectronics Simplifies Digital Broadcast Cable Set-Top Box Designs


World's leading supplier of ICs for CableTV set-top boxes combines the MPEG decoder and cable demodulator in a single package

Geneva, March 23, 2004 - STMicroelectronics (NYSE: STM), the number one supplier of set-top box ICs, has announced its first single-chip solution to allow TV viewers to watch digital cable TV channels on their analog TV. The QAMi5516 performs the functions of the QAM cable-signal demodulator and the MPEG video-stream decoder, which decompresses the digital signal. The IC is well suited for today's digital cable set-top boxes (STBs), and its high-performance CPU and enhanced graphics capabilities make it the ideal choice for low-cost STBs.

The fast growing Asian cable market today has an estimated 150 million analog cable customers. Suppliers of digital services require cost effective solutions to drive the digital rollout. In China, where there are over 90 million cable-connected households, the digital rollout in 41 provinces selected by State Administration of Radio, Film and Television is targeting 30 million subscribers by the end of 2005. STMicroelectronics is well positioned to respond to this bold roll out plan where more than 70% of the deployed boxes in this market are based on ST chips. The QAMi5516 meets the requirements of the cable broadcast STB, is already supported by a large number of software developers, and supports all major conditional access and middleware products.

For many service providers defining a digital set-top box to launch digital services, price is an important factor. By combining the QAM cable-signal demodulator and the MPEG video-stream decoder functions into a single chip, ST will help reduce production costs by lowering the cost of the chipset and enabling the use of a simpler and smaller printed circuit board (PCB) design. Additionally, the pin-out of the new device ensures that a two-layer printed circuit layout is possible despite the functional complexity of the STB.

"This new device confirms ST's continued leadership in the STB market," said Christos Lagmichos, General Manager of ST's Set-Top Box Division. "Greater functional integration at the chip level will aid the digital roll out in cost-sensitive Asian markets.

To minimize design costs and to speed up development for Digital Cable Set Top Box producers, ST has developed a low-cost building-block concept known as the "cable brick" - a complete reference design which is offered with full design support, including circuit schematics, printed circuit board layout, and core software. STB manufacturers can use it unchanged as their design, or can adapt it to meet their particular requirements.

The new CBR1300 incorporating the QAMi5516 extends the concept of the cable brick by providing increased integration. The IC's software is compatible with the popular STi5516 and STV0297 devices from ST, and minimal software porting is required from existing designs.

"By powering our low-cost broadcast cable solutions with the QAMi5516, we expect to build on our already established position in the market," said ASUSTEK General Manager Steve Huang. "The combination of ASUSTEK and ST's leading technologies will provide a highly competitive solutions for our customers."

Market research firm In-Stat/MDR predicts that the digital cable TV set-top box market will experience solid growth over the next few years. "We expect worldwide shipments of digital cable TV set-top boxes to exceed 11 million units by 2006," said senior analyst Mike Paxton. "ST is also well-positioned in the markets for consumer appliances such as Digital PC-TV Tuners, integrated Digital TV sets, and DVD recorders, where similar chips are used."

"We have already designed the QAMi5516 into our STBs for the Chinese market," said Coship Vice President, Mr. Daniel Pan. "We fully expect this device to provide a stable and cost-effective platform for viewers to enjoy all the benefits of digital cable television."

The QAMi5516 is approximately $US13 in quantities up to 50k units.

About the Technology
All digital television signals - whether for cable, satellite, or terrestrial reception - are compressed before transmission using the MPEG-2 compression standard, and must be decompressed using an MPEG-2 decoder after reception. Compression enables broadcasters to transmit several digital channels in the same bandwidth as is required to transmit a single analog channel. ST's OMEGA family - which includes the STi5516 - is a range of highly integrated devices, each of which includes an audio/video MPEG-2 decoder, an ST20 32-bit system CPU, display and graphics features, a digital video encoder and a variety of system peripherals. For many years, ST has been the world's leading supplier of MPEG-2 chips.

About STMicroelectronics
STMicroelectronics is a global leader in developing and delivering semiconductor solutions across the spectrum of microelectronics applications. An unrivalled combination of silicon and system expertise, manufacturing strength, Intellectual Property (IP) portfolio and strategic partners positions the Company at the forefront of System-on-Chip (SoC) technology and its products play a key role in enabling today's convergence markets. The Company's shares are traded on the New York Stock Exchange, on Euronext Paris and on the Milan Stock Exchange. In 2003, the Company's net revenues were $7.24 billion and net earnings were $253 million. Further information on ST can be found at www.st.com.

More from Thermal & Heating Equipment