Dechlorination Analyzer requires no chemicals to monitor seawater.
Press Release Summary: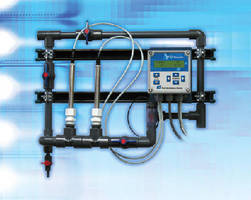 Model DCA-23 monitors chlorine in seawater from 0.0-2.0 ppm. Unit measures pH from 0-14, temperature from 0-100°C, and Total Residual Oxidant of seawater from ±1,500 mV, and converts them into equivalent ppm chlorine value. Minimum detection limit is 0.014 ppm and limit of quantification is 0.044 ppm. With max pressure rating of 50 psig at 60°C, Model DCA-23 is suited for LNG terminals, electric power plants, and municipal water desalination plants.
---
Original Press Release:

DCA-23 Seawater Dechlorination Analyzer is Accurate and Economical Chlorine Measurement Solution



Ideal For LNG Terminals, Electric Power Plants, and Municipal Water Desalination Plants

Irvine, CA - The new Model DCA-23 Seawater Dechlorination Analyzer from Electro-Chemical Devices (ECD) is a low maintenance measurement solution that requires no chemicals to monitor seawater chlorine levels accurately in a wide range of industrial process and municipal water treatment applications.

Seawater has multiple process industry uses, including heat exchange systems at LNG terminals, oil/gas refineries, electric power plants and SWAC systems (salt water air conditioning) in commercial buildings. Seawater desalination plants also chlorinate and dechlorinate the water before processing. The chlorination of seawater inhibits the growth of marine life on the various filters, screens and heat exchanger surfaces, but the seawater must be dechlorinated for environmental reasons before it is discharged back into the original water supply.

The DCA-23 is a single-purpose analyzer that monitors chlorine in seawater from 0.0 to 2.00 ppm. It features an economical, low-maintenance design that requires no chemicals. It measures the pH, temperature and Total Residual Oxidant (TRO) of seawater and converts them into an equivalent ppm chlorine value, which is displayed to conform with existing conventions. It features a minimum detection limit (MDL) of 0.014 ppm and a limit of quantification (LOQ) of 0.044 ppm, making the DCA-23 Analyzer suitable for monitoring in environments with the most stringent dechlorination regulations.

The DCA-23 features three sensors, pH, TRO and temperature. The pH sensor measures from 0-14 pH, the TRO sensor measures from ±1500 mV and the temperature sensor measures from 0-100°C. The DCA-23 with its tri-parameter monitoring, is the ideal seawater chlorine analyzer for a wide range of applications.

During the re-gasification process at LNG terminals, large quantities of chlorine-treated seawater are used to heat the LNG heat exchangers. Seawater gradually raises the temperature of cold liquid natural gas changing it from a compressed fluid into a gas for distribution through the service pipelines. Recycling the seawater requires dechlorination monitoring with the DCA-23.

Steam-driven turbines at electric power plants generate much of the world's electricity. Seawater cooling is employed at both thermal and nuclear power plants in coastal regions. The seawater flows over heat exchangers and condenses the steam used to drive the turbines. The cooling is accomplished with chlorinated seawater, which requires monitoring with the DCA-23 before discharge. Similar heat exchange processes are utilized by oil/gas refineries.

In water desalination plants, seawater is treated by reverse osmosis (RO) to remove the salt. The intake seawater is treated with chlorine to kill algae and other organisms prior to the reverse osmosis process. The RO membranes are degraded by chlorine so the chlorinated seawater must be dechlorinated before contacting the membranes. The DCA-23 is ideal for monitoring the dechlorination process.

The DCA-23 Seawater Dechlorination Analyzer is available in five configurations: 1.) Loop powered, 4-20 mA = 0.00 to 2.00 ppm Cl; 2.) 24VDC powered with two 4-20 mA outputs, Cl and pH; 3.) 24VCD powered with two 4-20 mA outputs and two alarm relays; 4. ) 110 VAC powered with two 4-20 mA outputs and two alarm relays; and 5.) 220 VAC powered with two 4-20 mA outputs and two alarm relays. The maximum system pressure and temperature rating is 50 psig at 60°C.

The DCA-23 Seawater Dechlorination Analyzer is an easy to install plumb-and-play device when ordered as a complete Uni-Strut rack mounted system and it is also available as separate components. The rack mounted system is plumbed with ¾" schedule 80 pipe, with slip fittings for input and drain. The T-23 Analyzer, 2 sensors, pH flow cell and TRO flow cell are rack mounted using 1 5/8" x 1 5/8" Uni-Strut rail.

About Electro-Chemical Devices

Electro-Chemical Devices (ECD) is a manufacturer of liquid analytical process instrumentation. Founded in 1977, ECD has been in business for over 30 years and has built its industry leading reputation by its commitment to customers through this basic approach: Provide quality products, develop technical innovations and provide responsive, knowledgeable service.

Company Contact: Joe Bradley: 949-336-6060

Company Address: 1681 Kettering, Irvine, CA 92614 USA

Web: www.ecdi.com Email: [email protected]

Tel: 800-729-1333 Tel: 949-336-6060 Fax: 949-336-6064