Deburring Tool - Inner/Outer Diameters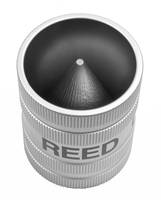 Reed's Inner/Outer Deburring Tool, DEB200, deburrs and reams both the inner and outer diameters using one tool. This double-ended deburring tool works for copper, aluminum, steel and stainless tubing from 3/8" – 2" (10-54 mm) I.D./O.D. Multiple cutting edges on the inside of either end provide smooth deburring operation. Knurled rings on the surface allow operator a firm grip during use. The tool is used for copper pipe installation, plus with metal pipe found in water service lines, plumbing lines, radiant heating and gas lines.
Link to: https://www.reedmfgco.com/en/products/cutters-and-cutter-wheels/deburring-tool-inner-outer/
Marnie L. Caldwell
Marketing Director
Reed Manufacturing Co.
voicemail: 814-452-3691 x1110
More from Machinery & Machining Tools