Deburring System processes fineblanked parts.
Press Release Summary: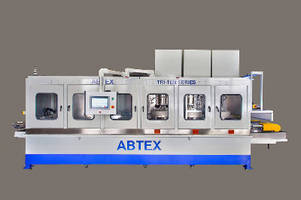 Capable of being bulk fed or fed directly by upstream press, Tri-Ten System features 3 planetary head system that removes burrs on parts ranging from 3 mm to 0.40 mm thick. Three 254 mm flap discs on first head remove primary stamping burr, while six 254 mm, application-specific abrasive filament brushes on second and third heads eliminate secondary burrs and provide specified edge radius. To ensure part cleanliness and extend media life, coolant is liberally applied during deburring operation.
---
Original Press Release:

Abtex Introduces Deburring System For Fineblanked Parts



Abtex Corporation has designed and built the largest and most technologically advanced Tri-Ten deburring system in its 34 year history.  The new system, designed for deburring high volume fineblanked parts, will operate three shifts/day, seven days/week.  This results in an annual throughput of more than 15 million parts.



The machine can be either bulk fed (operator or robot) or fed directly by the upstream press.



The in-feed conveyor on this machine passes parts under a Vision System before they enter the deburring stations.  The vision system is programmed to stop the machine if parts are overlapped, stacked or otherwise improperly loaded.  The system also communicates with the upstream press, centralized coolant system and downstream conveyors to ensure safe, efficient and effective part processing.



Fineblanking produces a burr on only one side of the part.  The three planetary head system removes the burrs on parts ranging from 3mm thick to 0.40mm.  Three custom designed 254mm flap discs on the first head remove the primary stamping burr. Six 254mm, application-specific abrasive filament brushes on the second and third heads eliminate secondary burrs and provide the specified edge radius.



Coolant is liberally applied during the deburring operation to ensure part cleanliness and extend media life.  To protect the inside of the machine, the enclosure is stainless steel with a continuously welded frame to ensure a watertight system.  All subassemblies in the work area are either stainless steel or electroless nickel plated. 



After deburring, a gap conveyor smoothly transfers parts to a heavy rinse station and demagnetization and blow-off bays that efficiently remove any residual debris or particulate.



Drive motors are mounted outside the machine, on the rooftop, to isolate them from the coolant mist. A rooftop mist collector and frame-mounted electrical cabinet reduce the system's footprint.



Automatic brush wear compensation, automatic lubrication, cantilevered conveyor belt design and pneumatic belt tensioning are just a few of the advanced design details that will ensure an efficient and reliable system that is easy to maintain.



For information, call Abtex at 888.662.2839, e-mail sales@abtex.com or visit www.abtex.com. Abtex Corporation is at 89 Main Street, P.O. Box 188, Dresden, New York 14441. Telephone 315.536.7403, fax 315.536.0280.





For further information, contact:

Duane Pancoast

APR

The Pancoast Concern, Ltd.

27 Maple Avenue

Victor, NY 14564

Tel: 585.924.4570

Cell: 585.576.6588

Fax: 585.924.2929



More from Thermal & Heating Equipment