Deburring / Deflashing Services
Deburring System handles high volume fineblanked parts.
Press Release Summary: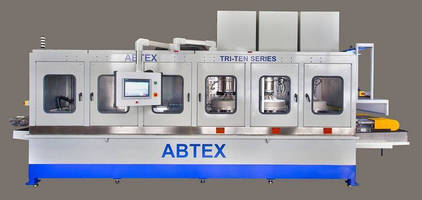 Capable of annual throughput of >15 million parts, Tri-Ten deburring system can be bulk fed by operator/robot or fed directly by upstream press. Vision System stops machine if parts are improperly loaded, and 3 planetary head system removes burrs on parts from 3–0.40 mm thick. While three 254 mm flap discs on first head removes primary stamping burr, six 254 mm application-specific abrasive filament brushes on subsequent 2 heads eliminate secondary burrs and provide specified edge radius.
---
Original Press Release:

New Tri-Ten Deburring System



Abtex Corporation has designed and built the largest and most technologically advanced Tri-Ten deburring system in their 34 year history.  The new system, designed for deburring high volume fineblanked parts, will operate three shifts/day, seven days/week.  This results in an annual throughput of more than 15 million parts.



The machine can be either bulk fed (operator or robot) or fed directly by the upstream press.



The in-feed conveyor on this machine passes parts under a Vision System prior to entering the deburring stations.  The vision system is programmed to stop the machine if parts are overlapped, stacked or otherwise improperly loaded.  The machine also communicates with the upstream press, centralized coolant system and downstream conveyors to ensure safe, efficient and effective part processing.



Fineblanking produces a burr on only one side of the part.  This three planetary head system removes the burrs on parts ranging from 3mm thick to 0.40mm.  Three, custom designed 254mm flap discs on the first head removes the primary stamping burr.  On the subsequent two heads, Six, 254mm application specific abrasive filament brushes eliminate the secondary burrs, providing the specified edge radius.



Coolant is liberally applied during the deburring operation to ensure part cleanliness and extend media life.  To protect the inside of the machine, the enclosure is stainless steel with a continuously welded frame to ensure a watertight system.  All subassemblies in the work area are either stainless steel or electroless nickel plated.  Drive motors are mounted outside the machine, on the rooftop, to isolate them from the coolant mist.  A rooftop mist collector and frame mounted electrical cabinet reduce the system's footprint.



After deburring, a gap conveyor smoothly transfers parts to a heavy rinse station, demagnetization and blow-off bays that efficiently remove any residual debris/particulate.



Automatic brush wear compensation, automatic lubrication, cantilevered conveyor belt design and pneumatic belt tensioning are just a few of the advanced design details that will ensure an efficient and reliable system that is easy to maintain.



For information, call Abtex……..