Deburring/Rounding Machine handles parts of greater thickness.
Press Release Summary: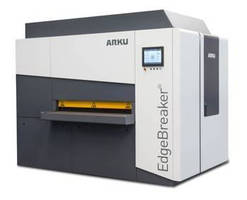 Supporting part parameter input via touchscreen controls, EdgeBreaker® can run jobs automatically on 25 kW upon stored data retrieval. Dry processing application can perform double-sided deburring and rounding. While oscillating roller-equipped unit removes unwanted burrs, transverse-running rounding units with rounding locks simultaneously round edges on both sides. One-Click system allows for accelerated replacement of rounding blocks.
---
Original Press Release:

ARKU Enters Deburring with the New EdgeBreaker



ARKU is now in the "smoothness business," with development of the new EdgeBreaker® deburring and rounding machine – the first in the company's new line of deburring equipment.



Cincinnati, Ohio.  For decades, ARKU has made a name for itself in leveling technology and now the company is entering the deburring market with launch of the new EdgeBreaker® deburring and rounding machine. The launch will take place on October 8, 2015, in Cincinnati, Ohio, as part of ARKU's "OktoBurrfest 2015" event. "The time has come to expand our areas of competence and take the next logical step," said Albert Reiss, ARKU's managing director. "In order for our proven high-precision levelers to work even more efficiently, the use of deburring machines of equal quality and reliability is recommended. Therefore, we are building on our expertise in leveling, and applying it to burr-removal technology."



Everything from a single source

The EdgeBreaker represents the debut machine in the newly developed product line specifically adapted for parts with greater thickness. "From our many years of experience in leveling technology, we know that flatness results are improved when you start with a clean, burr-free part," explains Franck Hirschmann, ARKU's Key Account Sales Manager. "Our customers will now have the ability to obtain not only leveling machines, but also deburring machines, comprehensive consultation and service from a single source."



Whether this material is aluminum, steel or titanium, the oscillating roller equipped EdgeBreaker removes unwanted burrs, while transverse-running rounding units equipped with rounding locks, simultaneously round the edges on both sides. A patent-pending One-Click system allows for a quick replacement of the rounding blocks. Part parameter input is quick and easy using touch-screen controls. Once stored, the data can be retrieved at any time allowing the EdgeBreaker to run jobs automatically on just 25 kW. The Edgebreaker is a dry processing application and can perform double-sided deburring and rounding.



The new EdgeBreaker is available for tests and contract deburring at the leveling and deburring center in Cincinnati. "With this broad performance spectrum, ARKU is providing support to sheet processors and helping them achieve time and cost savings," said Eric Cohen, ARKU's North American Sales Manager for deburring machines.



About ARKU

ARKU, founded in 1928, is a world leader in roller levelers and press feeding technology with the world's most extensive range of high-capacity and precision levelers, and with nearly 50 years' expertise in the field. The company also recently added innovative deburring and edge rounding technology to its portfolio. With its headquarters in Baden-Baden, Germany, and ISO-certified facilities in Kunshan (China) and Cincinnati (USA), the business operates in almost 30 countries worldwide. The product range comprises precision levelers, deburring and edge rounding machines for parts, cut-to-length and slitting lines, press feeding lines and coil preparation lines for roll formers. ARKU provides engineering expertise to many manufacturing industries, including automotive, railroad equipment, shipbuilding, construction and furniture, as well as laser job shops and others.



For further information, go to www.arku.com



ARKU Press Contact in N.A.

ARKU Coil Systems, Inc.

Nicholas Miller

Technical Director

Tel: 513 985 0500

nicholas.miller@arku.com



ARKU Corporate Contact:

ARKU Maschinenbau GmbH

Alexandra Schuldt

Marketing Communications Manager

Tel: +49 7221 5009-93

alexandra.schuldt@arku.de

More from Machinery & Machining Tools