Deburring Machine handles parts up to 800 mm diameter.
Press Release Summary: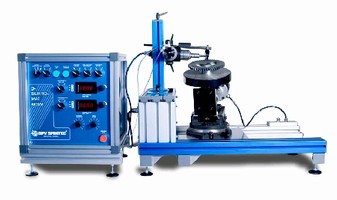 Suitable for incorporation into robot cells, bench-top Model 68 2006 deburs gear wheels and contoured profiles on round and oval workpieces such as rings, hubs, and discs. It can be supplied with several spindles running at 2 different speeds. Cutting pressure is adjustable from 10-300 g, and initial tool contact is dampened via adjustable shock absorber. Pivoting suspension device on spindle provides free movement vertically when working to ensure equal machining.
---
Original Press Release:

SPV Spintec AB Launches Latest Generation of Deburring Machine



SPV Spintec AB has introduced a new version of their automatic deburring machine for deburring of gear wheels and contoured profiles on round and oval workpieces such as rings, hubs and discs. The 68 2006 is a very flexible machine for removal of burrs on gear wheels, castings, rings or flanges. It has been developed for a wide range of applications and is particularly suitable for incorporation into robot cells.

The benefits of the bench top size 68 2006 are very fast set-up, flexible operation and the reasonable price. In addition, it has "excellent programmable repeatability and is adjustable for various sizes of work parts, up to 800 mm diameter," notes Dag Wiksholm, Export Sales Manager at SPV Spintec. The machine is easy to reset for different details and can be driven remotely with a robot or used as a stand-alone machine. Customized machines can also be delivered upon request.

Tailored small to medium series production
The machine has been designed for companies involved with the manufacturing of, for example, gear wheels or other cylindrical or symmetrical round parts in small to medium series. The fast set-up time and moderate basic price are particularly attractive to small workshops with small or medium serial production, while the possibility for incorporation into robot cells is more applicable to larger workshops and highly automated mass production companies.

The machine can be supplied with several spindles running at two different speeds allowing for flexible operation. This gives the possibility, for example to having one grinding spindle for the deburring process using one size grinding tool alongside a second spindle for polishing of any residual sharp edges using a different tool size running at a different speed. It can be supplied with various pneumatic chuck options and a Plexiglas enclosure, for operator safety. Typical materials processed are soft and heat-treated steels, or non ferrous alloys, but also softer materials like cast iron, aluminium or other light alloy / composites can be processed.

An important aspect of the 68 2006 is long tool life. The cutting pressure is adjustable from less than 10 grams up to 300 grams and the initial tool contact is setting is dampened via an adjustable shock absorber. A pivoting suspension device on the spindle provides free movement vertically when working, to ensure equal machining around the gear teeth or along the component profile.

Editor's note: Deburring by hand is a monotonous and slow process, potentially causing occupational injuries. Using a robot/deburring machine is a faster and safer way of deburring.

About SPV Spintec
The SPV Spintec AB is a specialist supplier of high precision industrial machining equipment with experience that goes back more than 70 years. The company's activities covers the manufacturing and marketing of high speed electric machining spindles, plus converters and accessories as well as high precision tool holders for metal cutting industry. Its products include hydraulic chucks, tapping chucks and all types of other tool holders.

SPV Spintec AB has become known as a problem-solving partner, whose machining know-how can offer customized solutions. The company has its own sales organization in Sweden and works through distributors in other countries such as Microfinish Grinding in London, UK and Performance Tooling Solutions in Chicago, USA.

For more information contact:
Dag Wiksholm
Export Sales Manager
SPV SPINTEC AB
Box 303
S-631 04 Eskilstuna
Ph. +46 16 153038
Mobile +46 73 3343038
Fax. +46 16 140404 / 513464
dag.wiksholm@spintec.se
www.spintec.se

More from Software