Deburring Machine features compact form factor.
Press Release Summary: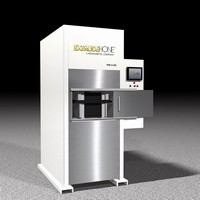 Designed for general manufacturing cells and small or specialty manufacturers, single station Thermal Energy Method(TM) (TEM(TM)) S-250 machine can integrate into lean manufacturing environments. Depending upon component size, compact unit can process million parts or more per yr and can handle small batch or mass production runs with average end-to-end cycle times of 60 sec. It also features computer controls for fine-tuning of process parameters.
---
Original Press Release:

EXTRUDE HONE to Debut New Single Station Thermal Energy Method



Irwin, Pa. USA (August 2, 2007)-EXTRUDE HONE® Corporation (a Kennametal Company) will debut its new single station Thermal Energy Method(TM) (TEM(TM)) S-250 machine at the Exposition Mondiale de la Machine Outil (EMO 2007) in Hannover, Germany, from Sept. 12 - 22, 2007.

Extrude Hone GmbH representatives will be available in exhibition hall 11, stand A46 to discuss the new single station TEM S-250 deburring machine and the company's entire TEM line of equipment.

With the entry-level, single station TEM S-250, Extrude Hone rounds out its robust line of TEM machines. The new S-250 makes Extrude Hone's distinctive and highly cost-effective TEM deburring technology more readily available for use in general manufacturing cells and smaller or specialty manufacturers that may not have the physical space or the production volume to warrant a full-size TEM machine.

Like all of Extrude Hone's TEM machines, the S-250 uses the same patented and distinctive process that Extrude Hone pioneered more than 30 years ago. Through ongoing innovations, TEM remains a fast, accurate, and highly controlled deburring solution. In fact, TEM offers the lowest overall burr removal cost.

At approximately half the size and weight of Extrude Hone's five station TEM C-250 unit, the more versatile, and compact, yet full-featured single station S-250 easily integrates into lean manufacturing environments. While featuring the smallest footprint of all the TEM units, the single station S-250 does accommodate up to a 30 percent large chamber volume capacity than the company's next largest machine.

Depending upon component size, the single station S-250 can process a million parts or more per year and can easily handle small batch or mass production runs with average end-to-end cycle times of 60 seconds. It also features user-friendly computer controls for fast setups and fine-tuning of process parameters.

"Our new single station S-250 truly completes our TEM equipment line and fills a need within the market for this technology among smaller, specialty, or space-conscious manufacturers," says Jim Wawrzyniak, Product Manager, at Extrude Hone. "We anticipate that the new Extrude Hone single station S-250 unit will be well-received within this market, providing rapid, controlled, and affordable burr removal. We remain dedicated to helping manufacturers and industries cost-effectively resolve their deburring challenges. The TEM technology is entirely unique among material removal processes and is instrumental to the overall quality, performance, and longevity of processed components."

www.extrudehone.com

Extrude Hone's TEM process uses a short burst of intense heat to simultaneously deburr and deflash internal and external surfaces without affecting or compromising adjoining component surfaces. Because the process is ideally suited for components that feature intersecting drilled holes and internal grooves and undercuts, component design complexity is simply not an issue for the TEM process. TEM works on a wide range of materials, including aluminum, brass, iron, steel, stainless steel, and zinc, such as automotive parts, screw machine parts, general hardware, gears, and thousands of other applications.

EMO attendees are encouraged to stop by exhibition hall 11, stand A46 to learn more about Extrude Hone's TEM deburring process and the entire line of TEM machines, as well as Extrude Hone's other advanced surface finishing technologies.

CONTACT:
William Z. Vande
724 978 7145

Related