Applicator / Finishing / Cleaning Brushes
Deburring Brushes come with abrasive filled nylon filament.
Press Release Summary: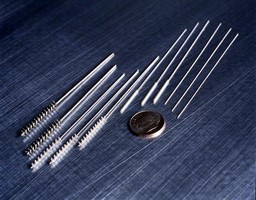 Available in Diamond Abrasive filled nylon filament, Miniature Deburring Brushes are suited for finishing ceramic, glass, aerospace alloys, and tool steel. Brushes for thru holes (81 Series) and bottom end applications are available for holes as small as .024 and 1/8 in., respectively. Twisted-in-wire deburring brushes can be used by hand or rotated under power, and are suited for wide range of applications such as electrical/electronic, medical tubing, and aerospace.
---
Original Press Release:

Brush Research Manufacturing Expands Line of Miniature Deburring Brushes



Removing burrs and producing an edge radius on small diameter holes is an expensive finishing problem that involves a great deal of hand work. Miniature deburring brushes can automate this process saving time and money while improving product quality and consistency. Filament choices include carbon steel, stainless steel, brass, nylon and natural to provide the optimum finish on a variety of base materials. Brush Research has just announced our miniature deburring brushes are now available in a Diamond Abrasive filled nylon filament. This high tech material is perfect for finishing ceramic, glass, aerospace alloys and tool steel and its unique flexibility provides longer tool life. The advantage of diamond abrasive nylon is that it will cut harder materials, deburr faster and last longer. Brushes designed for thru holes (81 Series) are available for holes as small as .024" (.6mm). Brushes designed for bottom end applications are available for holes as small as 1/8" (3.2mm). BRM also offers a complete metric series starting at 1mm.

Filament choice depends on the base material being finished, the severity of the burr and the final finish required. Carbon steel and stainless steel filament brushes are effective in cast iron and steel to remove chips and breakout burrs. Abrasive filled nylon is effective for improving surface finish and reducing burrs in softer materials and is a very good choice for deburring threads in both steel and aluminum. Brass filaments are excellent for soft materials. Nylon and natural filaments are mainly used for cleaning. Both can be used as a carrier for a diamond paste or cutting compound for polishing applications.

Miniature twisted-in-wire deburring brushes can be used by hand or rotated under power. The smallest diameter brushes are most often used by hand due to the delicate nature of the stem. Holders and pin vises are often used to grip the stem wire on the smallest tools. The larger diameter brushes can be chucked directly onto the stem wire and driven under power. Typical RPM for this type of product is 800-1100. Twisted-in-wire brushes should never be rotated faster than 1200 RPM. For most applications, the brushes can be used with cutting fluid or can be used dry.

Applications include:
Valves and Valve blocks
Electrical and Electronic
Disk Drive Mfg.
Medical tubing
Spray systems
Nozzle Mfg.
Aerospace
Fuel Injection Mfg.

For more information on miniature deburring brushes, contact Brush Research Manufacturing Co., Inc., 4642 E. Floral Dr., Los Angeles, CA 90022 TEL. 323-261-2193 FAX 323-268-6587, email sales@brushresearch.com, web www.brushresearch.com


More from Packaging Products & Equipment