Deburr and Washing System offers pressure up to 5,000 psi.
Press Release Summary: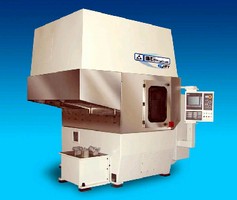 Able to handle parts up to 300 x 300 x 200 mm, multi-station iJet CNC High Pressure System completely washes, removes chip burrs, rinses clean, and dries 6 faces of parts. Four axis part handler transports part over series of single point horizontal and vertical rotary lance nozzles for single feature deburring and to manifold stations for multiple feature deburring and cleaning. System is available with 30, 50, or 75 hp pump system with water pressures up to 5,000 psi.
---
Original Press Release:

The Bertsche iJet CNC High Pressure Water Deburr and Wash Center



The Bertsche iJet CNC High Pressure Water Deburr and Wash Center, is a multi-station high pressure deburr and washing system with integral part handling that completely washes, removes chip burrs, rinses cleans and dry's 6 faces of a part. A four axis part handler transports the part over a series of single point horizontal and vertical rotary lance nozzles for single feature deburring and to manifold stations for multiple feature deburring & cleaning. Using a pressure intensified water jet directed at one or more part features, chip burrs and debris often in hard to access internal areas are removed while at the same time cleaning the part. This machine is intended for manufacturers of complex mid to high volume parts such as ABS housings, hydraulic components, fuel injection parts, diesel common rail, transmission and engine parts who consistently need to delivery high quality clean and burr free parts.

Contact: Bertsche Engineering Corporation (sales@bertsche.com)

Bertsche iJet CNC High Pressure Water Deburr and Wash Center uses an overhead 4 axis rigid high speed part transporter to move parts over a series of single point horizontal and vertical rotary nozzle stations for single feature chip burr removal and manifold stations for multiple feature deburring. The operating principle relies on a high pressure (up to 5000psi) intensified directed water jet to blasts chips and burrs from hard to access locations inside the part as well as externally. The part is moved from station to station over one or more single fixed or rotating horizontal and vertical water jet nozzles (for single features) and manifold stations for multiple features done in single operation. Parts are not contaminated or otherwise subjected to thermal stress and residual burn-off when compared to thermal flash deburring or subjected to corrosive saline solutions when compared to ECM deburring. For higher volume applications special multi-feature station manifolds remove chips, deburr multiple features on one or more faces. The standard machine configuration can accept a combination of up to six single and or multi feature deburr & wash stations. The machine has a small footprint machine and can easily be integrated to external (to the machine) part conveying systems. The "From the Top" part handling system picks up parts from a conveying system, moves the part with a CNC part program through a series of high pressure custom and universal wash & deburr stations. The ability to add a pre-wash and post wash stations and part blow off and dry stations, allow parts to be fully washed, deburred, cleaned and dried all in a single machine. Additional features include deburring complex forms through multi-axis interpolated motion. The parts can be spun with the C axis to remove residual water. The part can be indexed for 5 & 6 sided part surface washing. Unattended 24/7 operation is a standard feature. Both the part holding end-effecter and the wash stations are removable allowing the end-user to quickly reconfigure the machine when other parts need to be washed. Power, flow rate, and type of jet can be adapted to specific application needs.
For more information Contact: Bertsche Engineering Corporation (sales@bertsche.com)

Summary of Product Features:
o Ability to handle parts up 300x300x200 mm in size weighing up to 30kg
o Water shield protected elevated high speed 4 axis part mover with integral recovery water tank is fully enclosed in a water tight containment compartment.
o Dual beam XYZ carriage design fully supports the Ram and End-effecter.
o Up to 6 single jet and manifold jet wash and deburr stations in the basic configuration.
o Reconfigurable machine featuring removable end-effecter and station manifolds.
o Pre Rinse and Final Wash Tank and Filtration Systems
o Recovery Water Filtration System.
o Designed for direction integration into complex manufacturing systems.
o 30/50/75 & 100 HP High Pressure Pump Systems at 5000 psi (10,000 psi max.).

For more information Contact: Bertsche Engineering Corporation (sales@bertsche.com)

More from Electrical Equipment & Systems