De Nora Introduces ClorTec Hypochlorite Generators with Non-Intrusive Level Switch
Press Release Summary: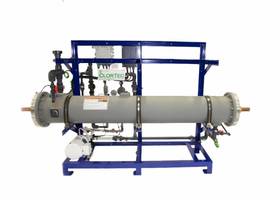 The De Nora ClorTec® DN Gen II Electrochlorination System is designed for generating on-site sodium hypochlorite. It is equipped with a proprietary liquid flow backboard and provides access to every component. The system comes with temperature sensor design and optional water and brine flow controls and split flow technology. The unit is embedded with smart monitoring technology and acid cleaning notifications that enable user to remotely monitor, trouble shoot and control the operation of the system.
---
Original Press Release:
De Nora Launches Next Generation of ClorTec® On-Site Sodium Hypochlorite Generators
The electrochemical innovation, to be launched at WEFTEC 2018 in New Orleans, features significant operational advantages and enhanced system efficiency
Houston—September 19, 2018 —De Nora, a leading designer of safe, innovative, and sustainable water disinfection and oxidation, filtration and electrochlorination solutions, today announces the launch of its next generation of ClorTec® on-site sodium hypochlorite generators at WEFTEC, the Water Quality Event.
The new De Nora ClorTec® DN Gen II electrochlorination system boasts a range of market-led features, designed to offer even greater on-site sodium hypochlorite generation efficiency, easier operation, less maintenance, and up to 50% footprint reduction. The Gen II continues a tradition of reliability and safety that can be expected after more than 3,500 ClorTec installations.
Upgrades to the ClorTec® system include a new design that allows the duty and standby units to be mounted on the same frame, saving up to 50% on the footprint. Other improvements include 100% access to every component, making operation and maintenance simple, and a proprietary liquid flow backboard that can be located anywhere in the building for additional flexibility.
New features ensure optimal performance and efficiency including new non-intrusive level switch and temperature sensor design, optional split flow technology, and new water and brine flow controls. Additionally, Smart Monitoring technology and acid cleaning notifications allow users to remotely monitor, troubleshoot and control the operation of their system and provide operation and performance data remotely.
"De Nora has always prided itself on its electrochemical expertise, as an innovator with more than 355 patents and 3,000 regional extensions. The investment of time, knowledge and R&D resources in the De Nora Water Technologies product lines is returning some exciting results," said Bryan Brownlie, Managing Director, De Nora Water Technologies Texas, LLC. "We have been listening carefully to the market to create a compelling new offering for our second generation ClorTec® DN systems, addressing the concerns and needs of operators and engineering contractors alike. The launch at WEFTEC 2015 of our original De Nora ClorTec® DN generators was just the first step towards this point and the process is always ongoing."
De Nora will be showcasing the new product at WEFTEC in New Orleans at booth #1729, where visitors will be able to see the new system and watch live demonstrations of the Smart Monitoring feature.
 About De Nora
De Nora is an Italian multinational leader in sustainable technologies that offers energy saving products and water treatment solutions. Globally, De Nora is the pre-eminent provider of electrodes for electrochemical processes (for clients in the Chlorine & Caustic, Electronics & Surface Finishing, Pool Electrochlorination and Specialties sectors) and is among the leaders in technologies and processes for the filtration and disinfection of water (for clients in the industrial, municipal water and wastewater, power and energy, and marine sectors). The Company has grown organically by continuous innovation and externally through major acquisitions in the USA, United Kingdom, Japan, and Italy. It serves clients in 119 countries and has a physical presence in 11 countries worldwide with 19 offices, 12 manufacturing facilities, and three research & development centers in Italy, the USA and Japan. The Group intellectual property portfolio currently contains 355 patent families with more than 3,000 territorial extensions and about 90 trademarks all over the world.
Media Contact:
Fran House
De Nora
Tel: +44 182 726 6069
Mob. +44 783 661 0079
Email: fran.house@denora.com
Beth Boeh
BB Communications
Mob: +1 610 787 0379
More from Agricultural & Farming Products