DDW-225 is Used in a ERTMS Level 2 System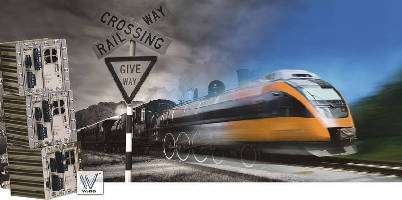 Banverket and Bombardier have chosen WESTERMO DDW-225 Ethernet extender to equip a ERTMS Level 2 section of Swedish railway. It is the first Level 2 installation ever to include equipment such as crossing barriers. Further to reliability the DDW-225 has contributed to significant cost savings as new fibre installation could be avoided.

The European Rail Traffic Management System (ERTMS) is a major industrial project developed by a number of major manufacturers in close cooperation with the European Union, railway stakeholders and the GSM-R industry. ERTMS aims at replacing the different national train control and command systems in Europe. The deployment of ERTMS will enable the creation of a seamless European railway system and increase European railway´s competitiveness.

ERTMS has two basic components: ETCS, the European Train Control System, is an automatic train protection system (ATP) to replace the existing national ATP-systems; and GSM-R, a radio system for providing voice and data communication between the track and the train, based on standard GSM using frequencies specifically reserved for rail application with certain specific and advanced functions. ERTMS is specified at different levels, and the definition of the level depends on how the route is equipped and the way in which information is transmitted to the train.

At Ådalsbanan in Sweden, Banverket together with Bombardier provided a section of railway with ERTMS Level 2. An application that is unique as it is the first level 2 installation ever to include equipment such as railway crossing barriers. In an ERTMS Level 2 system the engine driver can receive basic track and rail information via the GSM -R radio network. This driver information is sent from Banverket´s control centre via an IP network, which is connected to control and monitoring devices along the railway.

The equipment along the trackside has been linked to Banverket´s IP network using pre-existing twisted pair copper cables and the Westermo DDW-225. The DDW225 uses SHDSL technology that allows data to be sent at a maximum speed of up to 5.7 Mbit/s at shorter distances and up to 15 km at lower speeds. In this installation however, network resilience and reliability were prioritised rather than bandwidth. The best
balance between range and signal to noise ratio was achieved at 2.3 Mbit/s over distances from 2 to 7 km.

The requirements for high reliability called for a redundant network solution, which is why the National Rail Administration created two individual networks connected to duplicated control equipment. The different networks are completely separate and connected to the backbone network by separate routers. Even if one network should fail full access to the entire route can be achieved through the redundant network. In
addition, the DDW-225 supports a number of features that allow configuration for optimal control. VLAN, QoS, SNMP, SSH, and extended diagnostics were part of the requirements from the Rail Administration.

The DDW-225 is a robust Ethernet Extender with EN 50121-4-EMC approval for apparatus in trackside applications. The unit is designed for harsh environments and can operate in an extended temperature range (-40°C to +70°C). The DDW-225 has contributed to significant cost savings as new fibre installation could be avoided. The DDW-225 is also future-proofed as it can be upgraded to support future networking standards
as and when they are required.

Extend your network over pre-existing cables

Our Wolverine series of Ethernet Extenders, allow cost effective Ethernet Networks to be created over long distances at high data rates. The SHDSL technology employed makes it possible to reuse many types of pre-existing but redundant cabling, which could lead to great financial savings. Data rates of up to 5.7 Mbit/s on shorter distances and up to 15 km at lower data rates has been achieved on cables nearly 100 years old.
The latest addition to the Wolverine family is the DDW-225 and uses the Westermo WeOS operating system already employed in our range of Redfox industrial Routing Switches. Using WeOS provides the DDW-225 with all the advanced switching and routing functionality supported by the Redfox. These functions include VLAN support, Layer 3 switching, Static Routing, Firewall functions, IGMP Snooping, VPN support and
SNMP V3.

Westermo Teleindustri AB

S-64040 Stora Sundby

Sweden

Product Manager:

Bo Jansson

Phone: +46 16 428015

Fax: +46 16 428001

bo.jansson@westermo.se

Westermo provides a full range of industrial data communications solutions for demanding applications in the transport, water and energy markets among others. For more than 35 years Westermo has been at the forefront of technological development and often pushed the limits of what is technically possible. In order to provide the best possible support, we have local presence in more than 35 countries through our authorized distributors and own offices. Since 2008 Westermo has been part of the Beijer Electronics Group, a fast growing technology company with extensive experience of industrial automation, developing and marketing competitive products and solutions with focus on the user.

More from Software