DD14 Power Entry Module is compatible with V-Lock retaining cordsets.
Press Release Summary: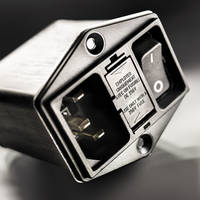 DD14 Power Entry Module features IEC C14 appliance inlet with 2-pole switch and 2-pole fuseholder. Unit comes with 2-stage EMC filter that suppresses interference voltages and provides positive effect on electro-magnetic compatibility. Module is rated to 10 A/ 250 VAC current levels and shielding is improved with screwing metal casing of filter to the panel. Units meet UL/ CSA, ENEC and cURus standards.
---
Original Press Release:
DD14 Power Entry Module with Double-Stage Filter
Today's electronic equipment is designed to deliver high performance in a compact size. This will often cause problems affecting the equipment itself or other nearby devices due to the inherent electro-magnetic interferences being generated in and between the different systems. To meet these EMC challenges, high performance power entry modules must also keep pace, and such is the case with the new DD14 series from SCHURTER. The DD14 series packs remarkable functionality into a new generation of compact power entry modules.
The new DD14 combines an IEC C14 appliance inlet with 2-pole switch and 2-pole fuseholder. EMC performance is further enhanced with a depth-saving 2-stage filter. Shielding is optimized by screwing the metal casing of the filter to the panel, using its horizontal or vertical flange. A snap-in filter version eliminates the flange, consuming even less panel space.
The DD14 integrates the EMC filter directly in line with the power input. The two-stage filter design suppresses interference voltages more effectively over a much broader frequency spectrum than single-stage filters, thereby having a positive effect on electro-magnetic compatibility.
Standard and low-leakage medical filter options are available for use in commercial or facilities ICT equipment according to IEC 60950 and medical equipment according to IEC 60601-1. The series meets the new fuseholder requirements outlined in IEC 60127-6 for enhanced fire safety and is also suitable for use in home appliances according to IEC 60335-1. It is compatible with V-Lock retaining cordsets.
The DD14 is rated for current levels up to 10 A / 250 VAC according to IEC and 8 A 125/250 VAC according to UL / CSA. It is ENEC and cURus approved.
Pricing for the DD14 is about $25 each per 100 pieces. Packaging is 10 pieces per box. Datasheet link for the DD14 is - https://us.schurter.com/en/datasheet/DD14. For sales and product information, contact Cora Umlauf at (800) 848-2600 or by email at info@schurterinc.com
About SCHURTER Inc.
SCHURTER is a progressive innovator and manufacturer of Circuit Protection, Connectors, Switches, and EMC Products to the electronic and electrical industries worldwide. SCHURTER's three divisions: Components, Input Systems and Electronic Manufacturing services are formed to provide customer specific products and services, which focus on clean and safe supply of power and making equipment easier to use. These core competencies bring a high degree of innovation to SCHURTER's main markets IT / Telecom, Medical, Space and Energy.
SCHURTER meets its customers' highest demands through certified quality, environmental and safety management systems including ISO 9001, ISO 14001, OHSAS 18001 and highly developed processes (Six Sigma method). Excellent services are upheld through the consistent application of an all-encompassing quality management system.
SCHURTER Inc., Santa Rosa, California is the exclusive North America sales and distribution office for the SCHURTER Group.
Contact This Company Download Spec Sheet
More from Construction Equipment and Supplies