DC-Powered Peristaltic Pumps provide dispensing accuracy.
Press Release Summary: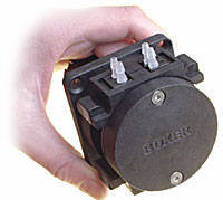 Available with 8 or 4 rollers/channel as well as multiple channel designs, Boxer 6000 Series offers gear-box or stepper-motor driven versions, with optional Stepper Motor Control board which installs either remotely or directly to back of stepper motor. Optional Controlled Stepper Drive allows for programming of up to 10 operating pump protocols. In addition to wide range of tubing diameters, pumps offer color-coded tube clips matching various tube diameters, eliminating need for adjustments.
---
Original Press Release:

New Peristaltic Pumps Feature Enhanced Dispensing Accuracy



Clark introduces the Boxer 6000 Series DC-Powered Peristaltic Pump, designed to provide high accuracy and low pulsation.



Hudson, MA – Clark Solutions announces its Boxer 6000 Series Peristaltic Pump.  Boxer 6000 Series Pumps are designed to require less space than other peristaltic pumps, substantially reduce tubing wear, and provide a more balanced motor load to ensure extended pump life.  An additional feature of Boxer 6000 Series Pumps is higher dispensing accuracy and reduced pump pulsation.  The pumps are available with either 8 or 4 rollers per channel, as well as multiple channel designs.



Boxer 6000 Series Peristaltic Pumps are offered in gear-box or stepper-motor driven versions, with an optional Stepper Motor Control board which installs either remotely or directly to the back of the stepper motor.  The optional Controlled Stepper Drive allows for easy programming of up to 10 operating pump protocols. In addition to a wide range of tubing diameters, Boxer 6000 Series Peristaltic Pumps offer color coded tube clips matching the various tube diameters, eliminating the need for any adjustments.



Clark Solutions has a fifty-year history of providing unique solutions to the control, measurement, and monitoring of flow, energy, pressure, force, and level in liquids and gases.  Located in Hudson, Massachusetts, the company offers a wide variety of pumps for liquids, gases, and air, including peristaltic pumps, piston pumps, diaphragm pumps, rotary vane pumps, gear pumps, impeller pumps, centrifugal pumps, and bellows pumps.  Instrumentation offerings include devices to record, monitor, and control flow, velocity, pressure, temperature, humidity, level, gas concentration, energy, and other properties.  Clark Solutions also provides a wide range of valves, including pneumatic valves, inert isolation valves, solenoid operated valves, valve actuators, pinch valves, manifold valves, ball valves, globe valves, butterfly valves, needle valves, and miniature and subminiature valves. 



For more information, contact Clark Solutions, 10 Brent Drive, Hudson, MA 01749, Tel. 978-568-3400, Fax 978-568-0060, email sales@clarksol.com, or visit our web site at http://www.clarksol.com.



Product URL: http://www.clarksol.com/html/BoxerSeries6000Pump.cfm

More from Software