DC Power Supply Socket enables flexible PCB power routing.
Press Release Summary: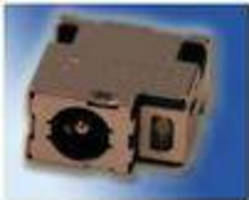 Measuring 15.85 x 14.0 x 7.6 mm, Model 040061FJ004S108ZA allows flexible supply of DC power to circuit boards via power supply cable or connection of DC power supplies to mobile consumer electronics systems. Standardized 5-pin round socket mates with matching 4.75 mm DC plugs, with central contact pin (1.65 mm dia) serving as positive terminal and 2 contacts reserved for white LED indicator connection. Max permissible contact load is 20 Vdc/pin and 8 Adc/pin.
---
Original Press Release:

DC Connector Socket with Integrated LED for Flexible Power Supply to Boards via Cable



Pfarrkirchen, Germany - For particularly flexible supply of direct current power to circuit boards via a power supply cable, or for connecting DC power supplies to mobile consumer electronics systems, such as notebooks, digital cameras, or similar devices, SUYIN has developed the 040061FJ004S108ZA DC power supply socket.

This socket, with dimensions of 15.85 x 14.0 x 7.6 (L x B x H in mm) can be located anywhere in the supplied system's housing, and it delivers the in-coming energy - here, too, with great flexibility - via cable to freely selectable DC power supply points on the board. An integrated white LED indicates the operating status. The standardized five-pin round socket mates with the matching 4.75-mm DC plugs, with the central contact pin with a diameter of 1.65 mm serving as the positive terminal and two contacts being reserved for the LED connection. The maximum permissible contact load is rated at 20 VDC/pin and 8 ADC/pin. The contact resistance is 30 mW (initial), the insulation resistance is 100 MΩ (initial), the operating temperature range is from -40 °C to +105 °C and reliability is specified at 5,000 mating cycles.

At SUYIN, the DC power supply sockets are manufactured and tested in accordance with, among other standards, the EIA-364 Standard and Sony Technical Standard SS-00259 (Sony Green Partner).

Key specifications at a glance:

Type
DC jack, for cable mounting
Number of positions
3 pole + 2 LED contacts

Dimensions
15.85 x 14.0 x 7.6 (L x W x H in mm overall)

Part Number
040061FJ004S108ZA

About SUYIN

FFounded in 1981, SUYIN Corporation is headquartered in Taipeh/Taiwan and employs over 11,000 people around the world in six production plants in Taiwan and China (Dongguang and Changshu) and in nine branch offices (China, Japan, Korea, Singapore, USA, Europe, Israel). With a turnover of 205 million US dollars (2007), the company is among the top ten in its industry in the Asian/Pacific region. SUYIN's product range begins with electromechanical connectors of all types (including both standard and custom versions) for use in consumer electronics, automotive electronics and industrial electronics. However, it extends all the way to optical and optoelectro¬nic products such as CMOS camera modules for applications in products such as cell phones, cars, and computers/notebooks. The company's strengths include a strong commitment to its customers that the company will maintain a high degree of flexibility with constant investment in state-of-the-art technology in order to meet customer expectations with regard to design, functionality, quality, service and cost efficiency. With the aid of rapid prototyping, high-precision machine tools and automated robotic assembly lines, SUYIN is able to help ensure the global success of its customers in Europe, the USA and throughout the Asian Pacific region. Additional information is available at www.suyin-europe.com.

Company Contact
Product Inquiries SUYIN GmbH (for release)
Passauer Strasse 99
84347 Pfarrkirchen
Christian Griesbacher
Telefon: +49(0)8561-23888-800
Email: christian.griesbacher@suyin-europe.com
Internet:
www.suyin-europe.com

Press Contact SUYIN GmbH
Passauer Strasse 99
84347 Pfarrkirchen
Sarah Kovacs
Telefon: +49(0)8561-23888-800
Email: sarah.kovacs@suyin-europe.com
Internet: www.suyin-europe.com

Contact PR Agency
MEXPERTS AG
Trimburgstrasse 2
81249 München
Contact: Kurt Loeffler
Tel.: +49-89-897361-0
Fax: +49-89-897361-11
kurt.loeffler@mexperts.de
www.mexperts.de

More from Electrical Equipment & Systems