DC Power Supplies generate high power in DIN rail package.
Press Release Summary: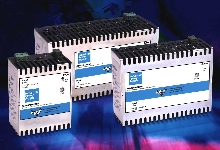 PS Series supplies 2 to 20 amps at 24 Vdc and 4 amps at 12 Vdc. Input voltage is switch selectable to 115/230 Vac. DIN rail mounts and removable plug connections make installation easy. Units include constant-current, short-circuit protection, which limits output current as voltage is reduced, to safely protect control components from direct shorts and device failures. Power supplies meet UL/cL 1950, 508, and 1604 requirements.
---
Original Press Release:
New Line of DC Power Supplies Available From AutomationDirect(R)

AutomationDirect(R) has introduced the PS series power supplies, a new line of DC power supplies that uses efficient switching
technology to produce the most power in the smallest space, while
generating a minimum amount of heat. The PS series of DC power-
supplies output 2-20 A at 24 VDC and 4 A at 12 VDC, with low ripple and noise. Input voltage is switch selectable to 115/230 VAC. Extra-sturdy DIN rail mounts and removable plug connections make installation simple. The new power supplies feature constant-current short circuit protection, which limits the
output current as the voltage is reduced, to safely protect control components from direct shorts and device failures. The PS series power supplies meet UL/cL 1950, 508 and 1604 (Class I Div. 2) requirements. Prices start at $59.

Editorial Contact: Jennifer Gerborg

Phone: 770-889-2858 Ext 805

Email: [email protected]