DC Norris North America: Software for Industrial Food Safety & Recipe Control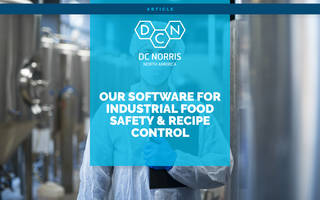 Traverse City, Mich. - April 12, 2022 - PRLog -- For all of those involved in the process of growing, harvesting, storing, transporting, cooking, and chilling the food before it hits a consumer's fork-industrial food safety is at the very forefront of every thought and process.
Recipe Manager Ensures Recipe Adherence & Industrial Food Safety
The DC Norris Recipe Manager Software package provides easy and flexible control of recipe-driven production processes.
Key Features of Recipe Manager for Food Safety:
The Recipe Manager Software Package maintains full records of kettle yields, allowing bar code identification from preparation through to packaging, and ensures all HACCP controls are met.
Automatic Supervisor Notification: supervisors will be notified immediately via email/SMS message of any process deviations outside of the recipe parameters.
Ingredient Addition Management (IAM): create and manage the food preparation area including Barcode reading and RFID tagging where required.
Calculates pasteurization values for pathogenic microorganisms (PU / PO)
Temperatures, cook times, and motor speeds are automatically controlled (custom to each recipe)
Visual display of plant layout and fault notification
Records all weights, temperatures, sequences, deviations, and errors
Creates batch reports in text and graph formats
Piped additions are batched in automatically and verified by either load cell or flow meter
Machine operator HMI screens can be viewed remotely in real-time
Easy data export to all popular formats
Recipes can include full-screen high-resolution pictures
Can interface to existing ERP/MRP systems
Manages all users and ingredients throughout the cooking process
Recipes can automatically scale ingredients for different batch sizes
Provides a full audit trail of all recipe
Can be set up as a client-server installation where several users can use Recipe Manager at the same time
Virtual Chart Recorder Helps Dc Norris Clients Maintain Industrial Food Safety
DC Norris Virtual Chart Recorder logs information relating to temperature changes in any cooking and/or cooling process and enables the production of historic cycle process records and trends.
The DC Norris Virtual Chart Recorder software has been designed to retrieve and record analog and digital data, relating to production cycles performed on a variety of different machinery -- including machinery that is manufactured by other brands. For digital recording, Virtual Chart Recorder will log the temperatures and weight of a product during a cook cycle.
Virtual Chart Recorder logs data continuously, on a 24-hour basis. The system utilizes a Microsoft SQL Server database which allows all batch records to be searched, viewed, and analyzed. All data can be exported to popular formats like Excel.
The underlying technology behind Virtual Chart Recorder is OLE for Process Control (OPC). Virtual Chart Recorder can capture information from virtually any brand of PLC. Virtual Chart Recorder can continuously monitor up to 256 machines at any one time.
hups://www.dcnorrisna.com/software/
Contact
DC Norris North America
***@dcnorrisna.com
More from Food Processing & Preparation