DC Micromotors include graphite commutation.
Press Release Summary: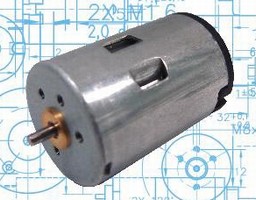 Featuring external motor diameter of 22 mm and length of 32 mm, Series M2232U provides stall torque of 25.62 mNm and speeds up to 10,000 rpm. Low-cog rotation is achieved through skewed laminations and tapered permanent magnet system. Available with 6, 12, and 24 V windings, Series M2232U GS has cantilevered brush system, while Series M2232U CS has cartridge brush system. Plastic and metal planetary gearheads are available in 22 mm dia, allowing output torque up to 600 mNm.
---
Original Press Release:

Ø22mm Low-cog DC Micromotor with Graphite Commutation



Clearwater, Florida (March 1, 2007) - Micro-Drives announces the expansion of its DC Micromotor product line with the addition of its Series M2232U. The low-cog DC micromotor has an external motor-diameter of 22 mm and a length of 32 mm. The low-cog rotation is achieved through a combination of skewed laminations and a tapered permanent magnet system. The DC micromotor can achieve a stall torque of 25.62 mNm and speeds of up to 10,000 rpm. The DC micromotor comes in 2 different versions each with graphite commutation which ensures long-life even under overload conditions. The Series M2232U GS has a cantilevered brush system while the Series M2232U CS has a cartridge brush system for even longer life applications. The 2.0 mm diameter motor shaft ensures high rotational stability.

The Series M2232U DC Micromotor can be combined with a gearhead, encoder, and linear actuator for a complete miniature DC drive system. Plastic and metal planetary gearheads are available in 22 mm diameter with various reduction ratios allowing an output torque up to 600 mNm. The 2 channel magnetic encoders allow for precise control of speed and direction of rotation as well as the positioning of the drive shaft.

Series M2232U motors with 6, 12, and 24 volt windings are immediately available from stock with a 24 - 48 hour turnaround.

For additional information and samples please contact a Micro-Drives, Inc. Application Engineer at 800-807-9166 or send an email to [email protected] or visit the website at www.micro-drives.com.

About Micro-Drives
Headquartered in Clearwater, Florida, Micro-Drives, is your source for low-cost customized DC motor drive systems. Micro-Drives supplies OEM's with fractional horsepower miniature DC motors and gearmotors for pumps, ventilation equipment, security and access control, CCTV, printing machinery, motorized window treatments, vending and gaming equipment, medical equipment and almost all other miniature actuator OEM applications you can imagine. Our specialties are miniature DC motors and gearmotors that range from 12mm to 52mm in diameter with power ratings up to 100 watts.

"Micro-Drives - your source for low-cost customized DC motor drive systems for the OEM market."

CONTACT INFORMATION:
Ted Severn
Micro-Drives
727-572-0131
www.micro-drives.com