DC to AC Power Supplies (Inverters)
DC Inverter Arc Welder produces 5-425 A output.
Press Release Summary: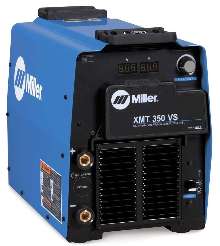 Offering constant voltage and current, XMT® 350 VS features Auto-Line(TM) primary power management technology and is suited for applications that require multiprocess inverter without remote control capabilities. It uses Tweco®-style connectors and includes 4-position process selector switch, adjustable dig and inductance control, Wind Tunnel Technology(TM), and Fan-on-Demand(TM). At 400 A, electrical efficiency is 87.24%, and unit provides output voltage to 38 V.
---
Original Press Release:

New XMT® 350 VS Inverter from Miller Electric Offers 50 Amps More Welding Output, Better Productivity


- Simplified operation targeting Construction and Fabrication applications

- Exclusive Auto-Line(TM) technology enhances arc performance

- Weighs only 80 lbs. for job site portability

APPLETON, Wis., November 12, 2004-- To improve productivity, flexibility and weld quality, Miller Electric Mfg. Co. has introduced its new XMT® 350 VS inverter. Offering both constant voltage and constant current, the XMT 350 VS has all of the features of the XMT 350 CC/CV multiprocess inverter except for its remote control capabilities and auxiliary power option. Like the CC/CV version, the XMT 350 VS features Auto-Line(TM) primary power management technology and a 5 to 425 amp output. The XMT 350 VS provides 350 amps/34 volts at a duty cycle rating of 60 percent. Weighing just 80 lbs., the XMT 350 VS offers maximum job site portability.

"The XMT 350 VS is the way to go if you are looking for a multiprocess inverter but you do not need remote control capabilities," says Jim Rappl, product manager, Miller Electric. "It has a simple four-position process selector switch and is the ideal machine for construction and fabrication personnel who do primarily Stick welding, but also perform TIG, MIG, flux cored, or air carbon arc cutting and gouging. For wire welding, we recommend pairing the XMT 350 VS with a Miller SuitCase(TM) VS Series wire feeder."

The new XMT 350 VS is intended to provide a CC/CV alternative for users of the XMT 304 CC, and offers 24 percent more power, improving deposition rates up to 27 percent when running a .045-in. tubular wire. It also permits running longer secondary weld cables when wire welding on construction sites.

The increased output voltage of the XMT 350 VS to 38 volts enables more headroom for voltage drops across longer secondary weld cables and at the same time delivers the desired welding voltage to the arc. For weld cable compatibility, the XMT 350 VS features Tweco®-style connectors.

The XMT 350 VS maintains all the benefits end-users expect from an XMT inverter: unmatched reliability, a single selector switch to simplify process selection, adjustable dig and inductance control, Wind Tunnel Technology(TM) and Fan-on-Demand(TM) for superior reliability and quiet operation.

Auto-Line Exclusive

Miller's unique Auto-Line technology, exclusive on all of Miller's XMT 350 models, provides three key benefits that improve performance: the ability to maintain a rock-steady arc despite primary power fluctuations within a 190 to 630 volt range; a primary power draw of just 17.8 amps at rated output on 460 VAC primary, which is a 25 percent advantage over competitive inverters; and the flexibility to accept any type of primary power (190 to 630 volt, single- or three-phase, 50 or 60 Hz) without any physical linking mechanisms.

According to Rappl, "Whether they are aware of it or not, many construction sites have a problem with dirty power. This can cause welding parameters to go out of specification and nuisance machine shutdowns. Both of which effect productivity.

Dirty power is the result of large loads starting on the same primary power line, primary power spikes and generators that do not regulate auxiliary power voltage.

Auto-Line technology uses a "boost converter." This circuit boosts the primary input power-whether it's 208, 220, 240, 460, 575 volt or anything in between-to a higher voltage. After being regulated, this power then becomes the source voltage for the actual inverter section of the power source. This ensures that the inverter has sufficient power as long as the primary power remains within +37/-59 percent of the nominal 460 volt power.

The Auto-Line circuitry also lowers primary power draw, which results in a near perfect power factor of .95 (1.0 is perfect). Drawing only 17.8 amps on 460 volt/three-phase primary, the XMT 350 models permit using smaller fuses/breakers, smaller primary wiring and adding more welders to a facility without altering incoming service. Rappl adds, "The XMT 350 VS's ability to run on one-fourth less current is also important on construction sites, which are usually starved for power."

The XMT 350 VS provides exceptional electrical efficiency, surpassing even the XMT 304 when welding at 250 amps and up. At 400 amps, the electrical efficiency is 87.24 percent. "With the XMT 350 VS, operators can see significant cost savings by reducing power consumption," Rappl says.

The XMT 350 VS is covered by Miller's True-Blue® three-year warranty. To download an XMT 350 VS spec sheet, visit Miller's Web site at MillerWelds.com. For more information or the name of the Miller distributor nearest you, call 800-4-A-MILLER (800-426-4553), e-mail info@millerwelds.com, fax 877-327-8132, visit the Web site or write to Miller Electric Mfg. Co., P.O. Box 100, Lithonia, Ga., 30058.

With headquarters in Appleton, Wis., Miller Electric Mfg. Co. is a leading worldwide manufacturer of Miller and Hobart brand arc welding equipment and related systems for metalworking, construction, maintenance and other applications. Miller Electric is a wholly owned subsidiary of Illinois Tool Works Inc. (ITW), Glenview, Ill. ITW is a diversified multinational manufacturer of highly engineered components, assemblies and systems.