DC Ground Fault Detector Comes with One-Piece, Solid Core Design
Press Release Summary: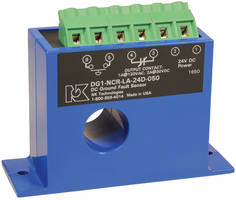 DG Series DC Ground Fault Detector features electromechanical relay outputs and solid core case. This detector is used in monitoring photovoltaic panels, water treatment and delivery, heating process and communication towers. The unit's output relay changes state at factory set-point between 5 and 50 mA of DC current to earth. Unit is compliant to UL, CUL and CE standards.
---
Original Press Release:
New DG Series DC Ground Fault Relay from NK Technologies Protects Machinery and Operators from Accidental Shocks
NK Technologies (www.nktechnologies.com) introduces the DG Series DC Ground Fault Detector. The DG series was designed to keep operators and machinery safe from accidental shocks by detecting fault currents quickly and easily, and can be installed at a fraction of the cost of products currently available. The one-piece, solid-core design allows for installation over wires feeding loads to about fifty amps. The output relay will change state at factory setpoint between 5 and 50 mA of DC current to earth.
Features include:
Electromechanical relay outputs
Externally powered with choice of fail safe or standard auto reset, or latching contact
Solid core case - ample sensing window for multiple conductors
Designed for UL, CUL and CE approval for use worldwide
Applications include:
Monitoring Photovoltaic Panels: Detect fault currents before damage can occur
Water Treatment and Delivery: Detect moisture ingress in submersible pumps • Heating Processes: De-energize circuits quickly if an element shorts to ground
Communications Towers: Monitor and notify if a battery-powered supply is allowing current to earth
ABOUT NK TECHNOLOGIES
Founded in 1982, NK Technologies designed the first low-cost solid-state current sensing technology that underlies the industry today.
Today, NK Technologies is a leading provider of current sensing, ground fault detection and power monitoring products to the industrial and factory automation markets, with a product portfolio that includes more than 1300 models to satisfy a wide range of specific application needs. As the needs of these markets change, NK Technologies is well-positioned to respond with sophisticated new product designs and improved product functionality necessary to meet those applications.
More from Non-Industrial Products