DC Fans and Blowers help customers facing EOL events.
Press Release Summary: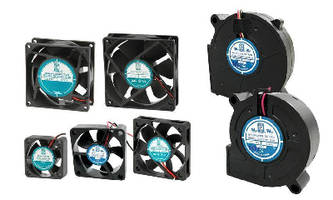 Intended for customers whose current source obsoletes fan or blower products, DC Fans and Blowers come in wide range of package size, speed, airflow, and special function combinations. In addition to 25, 30, 35, 40, 50, 80, 92, and 120 mm fan sizes, blower frame sizes of 51 x 15 mm and 60 x 15 mm are available.
---
Original Press Release:

Orion Fans Adds 56 New DC Fan Models to Help Customers Facing EOL Events



Orion expands its DC fan and blower product offering to include a wide range of new package sizes, speeds, airflows and noise levels...



DALLAS, TX -- Orion Fans has expanded its DC fan and blower product listing to offer a viable, long-term source for customers when their current source obsoletes a fan or blower product. Orion has introduced 52 new DC fans and 4 new DC blowers. The additions to the DC fan and blower families include a wide range of package size, speed (RPM), airflow (CFM), and special function combinations.



Orion has increased its 25mm (OD2510 Series), 30mm (OD3010 Series), 50mm (OD5010 Series and OD5015 Series), 80mm (OD8015 Series and OD8032 Series), 92mm (OD9238 Series), and 120mm (OD1232 Series) fan product offering. Orion has added two new fan sizes to its product offering with the introduction of 35mm (OD3510 Series) and 40mm (OD4015 Series) fans.



Orion has also added new blower frame sizes to include 51mm x 15mm and 60mm x 15mm blowers within the ODB5115 Series and ODB6015 Series respectively. The blowers are available with special functions.



"With our expanded DC fan and blower offering, we are giving customers confidence regarding the future availability of an integral component in their cooling system. At the request of many customers, we are pleased to help shore up their supply chain and maintain a stable source of supply," said David Luna, VP of Marketing for Orion Fans.



Pricing for the DC fans start at $9.00 in small quantities.



For more information about Orion Fans' DC fan product offering, go to http://orionfans.com/products/dc-fans.html,  contact an authorized Orion distributor; or contact Orion Fans at 10557 Metric Dr., Dallas, TX, 75243; call 800-323-2439, e-mail at dluna@orionfans.com.



Orion Fans, a division of Knight Electronics, Inc. is an ISO9001/2008 global manufacturer of standard and custom AC and DC fans, fan accessories, fan trays, and blowers. Established in 1995, Orion Fans supplies quality engineered and competitively priced cooling products and assemblies to OEMs worldwide. The company has engineering and manufacturing facilities in the United States, Europe, and Asia.

More from Packaging Products & Equipment