DC Electric Micro Gearmotor accommodates space-restricted jobs.
Press Release Summary: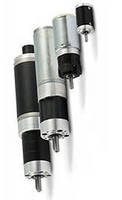 Suited continuous, reversing, or intermittent operation applications, Intecno micro gearmotors are available in 35, 42, 52, 65, and 80 mm dia; have 12 or 24 Vdc power supply; and feature power ratings from 8-140 W (intermittent duty). Motors can be installed in any mounting position and offer coaxial arrangement of input and output. Lubricated with grease, maintenance-free planetary gearboxes are available with 72 reduction ratios from 3.7:1 (single-stage) to 2,076:1 (4-stages).
---
Original Press Release:

DC Electric Micro Gearmotor Line is Compact Powerful and Lightweight



New line of micro motors can be used in continuous, reversing or intermittent applications

Moreno Ferrari, General Manager stated "Intecno DC micro gearmotors are perfect for many applications where both small dimensions and good performances are required. These characteristics are important in medical, robotics and electric vehicles. Another popular application is in electric windows or doors where the movement can be done with a small powerful micro gearmotors like these."

Options such as a bearing mounted input shafts and DC motor controls are also available to complete the product line.

"Planetary gearboxes were chosen because of the wide range of reduction ratios. We offer 72 ratios from 3.7: 1 (1 stage) to 2076:1 (4 stages) and they are lubricated with grease therefore maintenance-free." said Jon Roetman, USA Sales Manager.

"These planetary gearboxes can be customized to the application due to the possibility of using metal, plastic or material mix versions. The LN (low noise) version is also available, which significantly lowers the gearbox noise." added Ferrari

The new Intecno micro gearmotors have the followings characteristics:
- Coaxial arrangement of the input and output
- Compact design
- Advantageous torque with minimum space requirements
- Low moments of inertia
- Suitable for continuous, reversing and intermittent operation
- Can be installed in any mounting position

The distinguishing features of D.C. motors in general are their high starting torque as well as a torque/speed ratio suitable for high work loads. Another important characteristic of the D.C. motor is its density.

DC Motor Features:
- Magnetic field generated by permanent magnets
- Available in 5 sizes: diameters - 35mm, 42mm, 52mm, 65mm, and 80 mm
- Low voltage power supply, 12 or 24 VDC
- Power ratings available from 8 watts to 140 watts (Intermittent duty)

For more information go to www.intecno-srl.com or contact Jon Roetman at usaoffice@transtecno.com or call 712-540-9080

Related