DC to DC Power Supplies (Converters)
DC/DC Step-Down Controllers are 95% efficient.
Press Release Summary: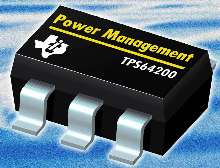 Non-synchronous TPS6420x series controllers conserve battery life in battery-powered applications with input voltages from 1.8-6.5 V that must be stepped down to regulated voltage to 1.2 V and provide output currents from 1-3 A. Housed in 6-pin SOT-23 packages, devices feature quiescent current of 20 µA and drive external P-channel MOSFET. Products use minimum on-time and off-time control scheme and feature internal soft-start and over-current protection.
---
Original Press Release:

TI Introduces 95 Percent Efficient Step-Down Controllers with Ultra-Low Quiescent Current in a Small SOT-23


New DC/DC Controllers Conserve Battery Life and Board Space in Cost-Sensitive Applications

DALLAS (Sept. 16, 2003) -- Texas Instruments Incorporated (TI) (NYSE: TXN) announced today a family of non-synchronous DC/DC step-down controllers with low quiescent current and up to 95 percent power efficiency. The tiny controllers help conserve battery life in battery-powered applications with input voltages between 1.8 V and 6.5 V that must be stepped down to a regulated voltage to 1.2 V and provide output currents from 1 A to 3 A. The new devices are ideal for applications such as personal digital assistants (PDAs), digital cameras, notebooks and medical and industrial appliances. (See: power.ti.com/sc03186). TI's TPS6420x family of step-down controllers feature a quiescent current of only 20 µA and drive an external P-channel MOSFET, which allows for added design flexibility with the application's output current. The controllers are ideally suited for systems powered from a 5-V or 3.3-V bus or for battery-powered applications using a single-cell lithium-ion (Li-Ion) battery or two- to four-cell alkaline, nickel metal-hydride (NiMH) or nickel cadmium (NiCd) batteries. The TPS6420x controllers achieve highest efficiency over a wide range offload current by using a minimum on-time and off-time control scheme. The minimum on time of typical 600 nanoseconds (ns) allows the use of small inductors and capacitors. When disabled, the current consumption is reduced to less than 1 µA.

Additional Features

o Adjustable and Fixed Voltage Options from 1.2 V to Vin

o 100 Percent Maximum Duty Cycle for Lowest Drop-out

o High Efficiency at Light Load Currents

o Internal Soft-Start

o Over-Current Protection

Pricing and Availability

The TPS6420x devices are available today in volume from TI and its authorized distributors. The DC/DC controllers come in a six-pin SOT-23 (DBV) package, and are priced in quantities of 1,000 at $0.50 per unit. Evaluation modules of the TPS64200 are available in less than 24 hours through power.ti.com.

Texas Instruments Incorporated provides innovative DSP and analog technologies to meet our customers' real world signal processing requirements. In addition to Semiconductor, the company's businesses include Sensors & Controls, and Educational & Productivity Solutions. TI is headquartered in Dallas, Texas, and has manufacturing, design or sales operations in more than 25 countries.

Texas Instruments is traded on the New York Stock Exchange under the symbol TXN. More information is located on the World Wide Web at: www.ti.com

Please refer all reader inquiries to:
Texas Instruments Incorporated
Semiconductor Group, SC-03186
Literature Response Center
P.O. Box 954
Santa Clarita, CA 91380
1-800-477-8924

More from Material Handling & Storage