DC/DC Power Modules are built inside inductor.
Press Release Summary: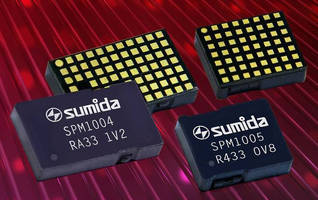 Respectively offering nominal inputs of 12 Vdc and 5/3.3 V, SPM1004 and SPM1005 series features magnetic material that forms entire package. All components are mounted within inductor, which maximizes available volume for inductor and reduces DC resistance. Power supply-in-inductor (PSI2) technology, which provides power density of up to 1,300 W/in.³, allows up to 96% efficiency. Available DC outputs include 5, 3.3, 2.5, 1.8, 1.5, 1.2, 1.0, 0.8, and 0.6 V at up to 6 A load current.
---
Original Press Release:

Sumida DC-DC Power Module Built Inside Inductor for Smaller Size, 96% Efficency, Lower Cost



FOR SMALLER SIZE, 96% EFFICENCY, LOWER COST



Sumida Group has reinvented the DC-DC power module by literally turning it inside out.  New power modules have achieved breakthrough performance improvements through a new patent-pending design concept, where the magnetic material forms the entire package and all components are mounted within the inductor. The maximum volume can therefore be available for the inductor, allowing very low DC resistance and high conversion efficiency.  (In a conventional design, the circuitry and main inductor are side-by-side.)  This power supply-in-inductor (PSI2) technology provides an industry-leading power density of up to 1300W/cu in.



The SPM1004 and SPM1005 Power Modules are the first products to be based on the new technology and offer pricing that is up to 50% less than most high density DC-DC modules with similar output ratings.  Sumida's new PSI2 technology allows up to 96% efficiency by optimizing the performance of the power inductor, a limiting factor in most competing point-of-load products. Power loss is reduced by up to 30%, which provides a 10 degree lower surface temperature under typical conditions. Magnetic material is also a much better thermal conductor than the plastic compounds typically used for potting in competitive modules.  The surface temperature therefore remains very uniform, with no hot spots.



The SPM1004 Series has a 12VDC nominal input with the SPM1005 Series for 5V/3.3V nominal input.  Available DC outputs include 5V, 3.3V, 2.5V, 1.8V, 1.5V, 1.2V, 1.0V, 0.8V and 0.6V at up to 6A load current.  Operating temperature range is -40 to +85°C, without forced air or derating.   The LGA package measures 9x11x2.8mm for the 5V input and 9x15x2.8mm for the 12V input.



The new DC-DC Power Modules are ideal for distributed power systems in equipment where high efficiency and high power density are required.   SPM1004 and SPM1005 customer evaluation boards and modules are available with 30-60 day delivery.  For samples and more information visit: http://products.sumida.com/ProductsInfo/ProductGuide/PowerModules.  Direct links to data sheets:  (SMP1004) http://www.sumida.com/userfiles/INFO_CENTER/POWER_MODULES/SPM1004%20Datasheet%20V1.05.pdf

(SMP1005) http://www.sumida.com/userfiles/INFO_CENTER/POWER_MODULES/SPM1005%20Datasheet%20V1.05.pdf



Sumida America Components Inc.

(847) 545-6700

E-mail: PowerModules@us.sumida.com



Note: Sumida Group is a leading manufactures electronic components and modules, including inductors and transformers for RF signal and power applications. These devices are used in a range of markets, including communications, automotive, consumer electronics, renewable energy and medical technology.

More from Sensors, Monitors & Transducers