DC/DC LED Drivers provide 40 VIN transient protection.
Press Release Summary: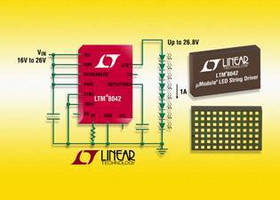 Capable of operating as boost, buck, or buck-boost with 3-30 V input voltage range, uModule® LTM8042 and LTM8042-1 drive strings of up to 8 white LEDs or 9 red LEDs. Model LTM8042 sources up to 1 A of current, while Model LTM8042-1 sources up to 350 mA. Each features True Color PWM(TM) dimming with 3,000:1 ratio or analog dimming with 10:1 ratio. Housed in 9 x 15 x 2.8 mm LGA package, switching regulators are suited for industrial illumination, backlit displays, and automotive lighting.
---
Original Press Release:

uModule LED String Drivers with 40VIN Transient Protection



MILPITAS, CA - Linear Technology Corporation introduces the LTM8042 and LTM8042-1, DC/DC uModule® LED drivers for strings of up to 8 white LEDs or 9 red LEDs. Capable of operating as boost, buck or buck-boost with 3V to 30V input voltage range, each device is a complete LED driver solution in a 9mm x 15mm x 2.8mm LGA (land grid array) package. The LTM8042 and LTM8042-1 boast 0.5% output current line regulation accuracy and can withstand up to 40V input transients. The LTM8042 sources up to 1A of current, whereas the LTM8042-1 sources up to 350mA. Each features True Color PWM(TM) dimming with 3,000:1 ratio or analog dimming with 10:1 ratio. Their compact, robust, and complete solution permit a quick design-to-fabrication of LED string driver circuits in applications such as industrial illumination, backlight displays, scanners, and automotive as well as avionics lighting.

The LTM8042 and LTM8042-1 are switching regulator LED drivers with very accurate output current line regulation, ideal for driving LEDs or for general purpose current sourcing. Inductors, capacitors, regulator IC and compensation circuitry are enclosed and protected in a plastic package resembling an IC. These devices are pin-compatible with each other. For more information, visit www.linear.com/8042. The LTM8042 and LTM8042-1 are rated for operation from -40°C to 125°C, priced starting at $8.59 each in 1000-piece quantities.

Summary of Features: LTM8042 & LTM8042-1

o Complete LED Driver & Current Source Circuit in a 9mm x 15mm x 2.8mm LGA Package

o 3V to 30V Input Range with up to 40V Transient Protection.

o True Color PWM(TM) with 3,000:1 Dimming Ratio

o Operate as Buck, Boost or Buck-Boost Topology

About Linear Technology

Linear Technology Corporation, a manufacturer of high performance linear integrated circuits, was founded in 1981, became a public company in 1986 and joined the S&P 500 index of major public companies in 2000. Linear Technology products include high performance amplifiers, comparators, voltage references, monolithic filters, linear regulators, DC-DC converters, battery chargers, data converters, communications interface circuits, RF signal conditioning circuits, µModule® products, and many other analog functions. Applications for Linear Technology's high performance circuits include telecommunications, cellular telephones, networking products such as optical switches, notebook and desktop computers, computer peripherals, video/multimedia, industrial instrumentation, security monitoring devices, high-end consumer products such as digital cameras and MP3 players, complex medical devices, automotive electronics, factory automation, process control, and military and space systems.
LT, LTC, LTM, µModule and are registered trademarks and True Color PWM is a trademark of Linear Technology Corp. All other trademarks are the property of their respective owners.

North America and General Information

John Hamburger

Tel: (408) 432-1900 ext. 2419

jhamburger@linear.com

Doug Dickinson

Tel: (408) 432 1900 ext. 2233

ddickinson@linear.com

More from Optics & Photonics