DC to DC Power Supplies (Converters)
DC-DC Converters suit railway and rolling stock applications.
Press Release Summary: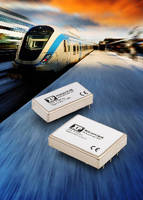 Rated at 20 W and 40 W, respectively, RDC20 and RDC40 Series comply with railway and rolling stock EMC standard EN50121-3-2. Both are available with input range of 36–140 Vdc or 55–176 Vdc. Single output models provide +3.3, +5, +12, or +15 Vdc, while duals deliver ±12 or ±15 Vdc outputs. RDC20 also has ±5 Vdc dual output option. Housed in metal encapsulated package, PCB mount converters offer 90% efficiency and operate over extended temperature range of -40 to +85°C.
---
Original Press Release:

XP Power Extends Line up of EN50121-3-2 Certified DC-DC Converters for Railway and Rolling Stock Applications



XP Power today announced the RDC20 and RDC40 series of 20 Watt and 40 Watt metal encapsulated wide range DC-DC converters designed for railway and industrial applications. These highly efficient PCB mounted converters, typically 90%, comply with railway and rolling stock EMC standard EN50121-3-2 and can accommodate a wide range of input voltages. Both series are available with either a nominal input of 72 VDC  (range 36 – 140 VDC) or 110 VDC (range 55 – 176 VDC).



Combined with their small size, the RDC20 measuring only 1.0 x 2.0 x 0.4 inches (25.4 x 50.8 x 10.16 mm), and a high efficiency, the RDC20 and RDC40 offer a high power density with minimal wasted heat. Both series can be used over the extended temperature range of – 40 degrees C to + 85 degrees C and can operate to full power using convection cooling up to + 50 degrees C or up to + 60 degrees with an optional heat sink. Maximum case temperature is + 105 degrees C.



Both series are available with either single or dual outputs. Single output models are available with + 3.3, + 5, + 12 or + 15 VDC. Duals comprise +/- 12 or +/- 15 VDC outputs. The RDC20 also has a +/- 5 VDC dual output option.



Standard controls and signals include remote On/Off, output over voltage, input under voltage and over current protection. An output trim function provides +/- 10% adjustment from stated nominal output on single output models only.



Basic input to output isolation is up to 1500 VAC and input/output to case is 1600 VDC.



The RDC20 and RDC40 series complement the existing line up of RDC30 30 Watt converters.



The RDC20 series is priced at $70.20 for 500 pcs orders and is available from Newark, Digi-Key, or direct from XP Power and come with a 3 year warranty.



For further information and reader enquiries:



Duane Darrow

XP Power

990 Benecia Avenue

Sunnyvale, CA 94085

Tel:  (971)-322-0326

Fax: (408)-732-2002 

Email: ddarrow@xppower.com

Web: www.xppower.com



William Sng SK

XP Power (Singapore) PTE LTD

Tel: +65 68469368  

Fax: +65 67418730

Email: wsng@xppower.com

Web: www.xppower.com



XP Power is committed to being a leading provider of power solutions, including AC-DC power supplies and DC-DC converters. With ISO9001:2008, XP Power offers total quality, from in-house design through to manufacturing facilities around the world. The company offers the widest range of power products available from one source and unrivalled technical and customer support, aiding both vendor consolidation and cost reduction programmes. XP has 27 sales offices throughout Europe, North America and Asia.



XP Power Ltd, a London Stock Exchange listed public company, has design centres in Fyfield (UK), Orange County (California), and Singapore, which also serves as the company's headquarters. Manufacturing is carried out near Shanghai, China and Ho Chi Minh City, Vietnam. The design teams push back the boundaries of cost and technology, providing market leading power products. Dedicated in-house Engineered Solutions teams provide customer specific solutions, with rapid response times. The applications team provide expert technical support to help customers integrate and use XP power products worldwide.

More from Mechanical Components and Assemblies