DC to DC Power Supplies (Converters)
DC/DC Converters suit low voltage applications.
Press Release Summary: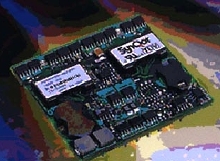 PowerQor(TM) Tera Series half-brick isolated DC/DC converters include output voltages of 15, 12, 5, 3.3, 2.5, 2.0, 1.8, 1.5 and 1.2 V. All units draw power from 48 V nominal input and deliver 60 amps or 165 watts output. Typical efficiency for 1.2 V module is 88% at half-load (30 A) and 84% at full load (60 A). It provides full 60 A of output current at up to 70 deg C, and 200 LFM airflow with no power derating.
---
Original Press Release:

SynQor Introduces 1.2V output module for 60A series of Half-Brick DC/DC Converters


Suited for very low voltage applications

Hudson, Mass - SynQor announced today the addition of a 1.2V output module for its popular PowerQor(TM) Tera series of industry standard "half-brick" sized isolated dc/dc converters. The 1.2V modules extend the converter's application range to
the very low voltage levels that are quickly emerging in today's advanced silicon devices.

The PowerQor Tera half-brick line now includes output voltages of 15V, 12V, 5V, 3.3V, 2.5V, 2.0V, 1.8V, 1.5V and 1.2V. All units draw power from a 48V nominal input (range: 35V to 75V) and
deliver 60 amps or 165 Watts of output. Typical efficiency numbers for the 1.2V module are 88% at half-load (30A) and 84% at full load (60A). The unit provides a full 60A of output current at up to 70°C and 200 LFM airflow with no power derating.

The low voltage Tera series of dc/dc converters is targeted towards the converging telecom and datacom markets that are supplying the hardware needed to support network and Internet
infrastructure growth. High-end optical networking equipment such as backbone switches and Terabit routers are just some products that require higher currents at increasingly lower voltages to power today's complex electronic circuitry. SynQor is meeting these challenges by increasing efficiency and power density while reducing converter size and eliminating the need for a heatsink. The PowerQor Tera converters are ideal for these types of OEM designs using distributed power architectures.

The entire family of Tera converters offer advanced control, safety and protection features including; on/off control, remote sense, no load operation, output voltage trim of +/-20%, input under-voltage and over-voltage lockout, output current limit, output over-voltage protection limit, temperature limit, as well as safety certifications from UL 1950, CSA 22.2-234, IEC 950, 72/23/EEC, 93/68/EEC, and ETSI standard ETS300 132-2. The full-feature model additionally provides active current sharing for parallel operation, external clock and start-up synchronization capability, and a supply voltage for driving an ORing MOSFET.

The 1.2V half-brick Tera is complimented by SynQor's 1.2Vout Quarter-brick Tera module that provides 40A of output current in an industry standard package. SynQor will soon add modules at
1.2V and lower across their broad product line of half-brick and quarter-brick converters of various power levels.

The entire family of PowerQor Tera half-brick converters, including the 1.2V module, is currently shipping in production volumes and is available direct from SynQor and through their network of distributors. The standard Tera half-brick modules are priced at $138.00 in 1,000 unit quantities and the full-featured units are priced at $143.00 in 1,000 unit quantities. For additional information contact SynQor at 508-485-8434, fax 508-485-8414, e-mail sales@synqor.com or visit our web site
at www.synqor.com.

SynQor is the technology leader in high efficiency dc/dc converters for distributed power architectures. SynQor's products exceed the exacting performance, quality, and reliability requirements of its world-class customers. SynQor
serves the converging telecom and datacom markets with their high-efficiency PowerQor® and DualQor® families of dc/dc converters. SynQor's products are designed to meet the challenging demands of OEM engineers building today's communications infrastructure hardware. SynQor is a privately owned company headquartered in Hudson, Massachusetts with offices in Dallas, Europe, Hong Kong and Japan. More information is available on the Company's website at www.synqor.com.


More from Controls & Controllers