DC to DC Power Supplies (Converters)
DC/DC Converters power non-isolated POL converters.
Press Release Summary: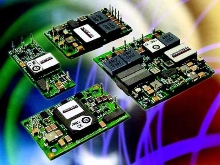 Quarter-brick Model QB1448 and half-brick Model HB2048 are 12 V, fully regulated, bus converters that operate under input range of 36-75 V. Model QB1448 provides 14 Adc at 90% efficiency and is suited for datacom and DPA applications. Model HB2048 provides 20 A at 91% efficiency and includes active current sharing capability, which provides stress balancing. It is suited for ATE, RF amplifiers, and wireless applications.
---
Original Press Release:

Cherokee International Rounds out Intermediate Bus Converter Family


DC/DC 12-volt converters power non-isolated point-of-load converters

Tustin, Calif., September 2, 2004 - Cherokee International, a leading manufacturer of power supplies, rounds out its 12V isolated intermediate bus converter (IBC) family with the QB1448 quarter-brick and the HB2048 half-brick DC/DC converters. Both converters operate under a wide-input range of 36 to 75 volts (V), fully-regulate the output to 12V, and are available in open frame or base-plate versions for handling extreme ambient conditions. These products join the previously announced 4:1 narrow input (42-53V) CBE eighth-brick and CBQ quarter-brick intermediate bus converters.

Cherokee International's bus converters offer a cost effective solution that takes advantage of the benefits of a 48V system (which has lower I2R losses) but still functions well with today's POLs and discrete circuit designs to power current and future chip sets. The QB1448 quarter brick provides 14 amps (A) of DC current at 90 percent efficiency and measures just 1.45 by .43 by 2.28 inches. The converter is ideal for datacom and DPA applications requiring fast transient response times at high currents.

The HB2048 half brick provides 20A at 91 percent efficiency and measures 2.4 by 2.42 by .411 inches. Active current sharing capability provides stress balancing and supports increased power demands. This half brick is ideal for ATE, RF amplifiers, and wireless applications.

Later this quarter Cherokee will be extending its family to offer higher current 5:1 bus converters that support wide-range, input-voltage requirements for central office and telecom applications.

Pricing and Availability for IBC DC/DC Converters

CBQ2548 - 25A, 42-53V input, quarter brick, is available at $39 for OEM quantities.

CBE1448 - 14A, 42-53V input, eighth brick, is available at $34 for OEM quantities.

QB1448 - 14A, 36-75V input, quarter brick, fully regulated is available at $49 for OEM quantities.

HB2048 - 20A, 36-75V input, half brick, fully regulated is available at $68 for OEM quantities.

About Cherokee International
Cherokee International designs, manufactures and markets high-reliability custom and standard switch-mode power supplies for datacom, telecom, medical and process-control applications. With advanced manufacturing facilities and engineering expertise located worldwide, Cherokee applies a customer-focused approach to provide high-reliability power products to manufacturers, reducing time to market. As the leading provider of custom-designed power sources, Cherokee also delivers a complete range of standard and modified-standard AC/DC power supplies, AC/DC rectifiers and power shelves, and DC/DC converters. Cherokee International headquarters are at 2841 Dow Ave, Tustin, California 92780 and can be reached at +1 714 544 6665. European operations are at Boulevard de l'Europe 131, 1301 Wavre, Belgium and can be reached at +32 10 438 510. Additional information about the company and its products is available at www.cherokeepwr.com.

More from Software