DC/DC Converters offer wide input range of 4.5-13.8 V.
Press Release Summary: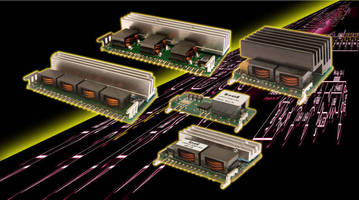 Offered with 20, 40, 50, 60, and 80 A output currents, open-frame Power SIP modules feature efficiencies of up to 94% and ultra-wide output voltage trim range of 0.59-5.1 Vdc. They have low input ripple current, remote on/off pin, differential remote sense, and switch at fixed frequency from 250-500 kHz, depending on module. Current share pin allows 60 and 80 A modules to share current between parallel units, while 40 and 50 A parts come in vertical and horizontal configurations.
---
Original Press Release:

Bel's Offering of Non-Isolated DC/DC Converters Now Includes Power SIP Modules with Output Currents up to 80A



Compact, Open-Frame Devices Optimized for High Efficiency and Low Cost

Westborough, MA, August 11, 2009....Bel Power, a division of Bel Fuse Inc. (NASDAQ BELFA & BELFB) has added 20A, 40A, 50A, 60A, and 80A Power SIP modules to their expanding offering of non-isolated DC/DC converters. With the addition of the newest parts, Bel Power's portfolio of SIP modules now includes cost efficient open-frame parts that can deliver 3A to 80A of output current. The new Power SIP modules operate at efficiencies of up to 94% over a wide input range of 4.5V to 13.8V, and ultra-wide output voltage trim range of 0.59 Vdc to 5.1 Vdc to help minimize manufacturers' BOMs. The fixed-frequency devices are provided with active-high and true active-high enable logic, and feature an integrated heatsink to maximize usable power density. Parts are RoHS EU Directive 2002/95/EC-compliant.

The converters are most commonly specified for an extensive range of PC board mounted power applications in which a particularly small footprint is required. They are ideally suited for both 12V input or 5V input distributed power architecture systems and are widely employed in data and enterprise networks. Devices are moreover appropriate in telecommunication equipment, servers, storage, and datacom equipment.

The Power SIP modules all switch at a fixed frequency (from 250KHz to 500KHz, module dependent), boast a low input ripple current, remote on/off pin, and differential remote sense. Additional control and protection features include input under-voltage lockout and output over current/short circuit protection. The 60A and 80A modules are notably provided with a current share pin that allows paralleled units to share current, while the 40A and 50A parts are offered in both vertical and horizontal configurations. For more detailed information on Power SIP parts visit

Pricing for the Power SIP Series of non-isolated DC/DC converters, in quantities of 10,000, is $9.85, $17.85, $18.75, $24.95, and $25.95 for the 20A, 40A, 50A, 60A, and 80A models, respectively. Samples and production quantities are available from stock with lead times of up to 12 weeks. To locate a representative, visit belfuse.com/BelPower/FindARep.asp, or to find a distributor, visit http://belfuse.com/BelPower/DistributorList.asp.

About Bel

Bel (www.belfuse.com) and its divisions, including Bel Power, are primarily engaged in the design, manufacture, and sale of products used in networking, telecommunications, high- speed data transmission, and consumer electronics. Products include magnetics (discrete components, power transformers and MagJackÒ connectors with integrated magnetics), modules (DC-DC converters, integrated analog front-end modules, custom designs), circuit protection (miniature, micro and surface mount fuses) and interconnect devices (passive jacks, plugs and cable assemblies). The Company operates facilities around the world.

http://www.belfuse.com/ProdList-PowerProds.asp?pPrLinID=1&pPrLin=Power%20Products&pCat=POL%20Converter&pSubCat=PowerSIP

Bel Power Inc.
155 Flanders Road
Westborough MA, 01581
508/870-9775;
Fax: 508/870-9796
Web Site: www.belpower.com
E-mail: belfuse@belf.com

Related