DC to DC Power Supplies (Converters)
DC/DC Converters offer low output noise to 5 mVpp.
Press Release Summary: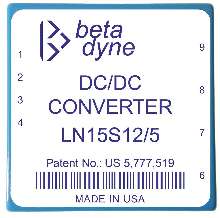 Isolated, 15 W, DC/DC converters, offered in single- and dual-output models, incorporate 250 mV dropout linear regulators and control circuit that maintains min constant dropout voltage over line and load temperature and output adjust range. With efficiencies to 88%, units include 6-sided shielding, soft start, adjustable outputs, and short circuit and thermal protection. Also offered: 750 µA off state current, industry pinout, and dual output tracking linear regulator.
---
Original Press Release:
Beta Dyne Introduces Series of Low-Noise 15W DC/DC Converters

Bridgewater, MA - Beta Dyne, Inc. is proud to introduce a new series of high-performance, low-noise isolated 15W DC/DC converters in single and dual output models. The converter incorporates low-switching noise techniques at its input and output sections; output noise is reduced to 5mVpp through the use of low dropout linear regulators; and a patented control circuit maintains minimum constant dropout voltage over line and load temperature and the output adjust range. Standard features include less than 5mV output noise, efficiency up to 88%, six-sided shielding, soft start, single and dual outputs, adjustable outputs, short circuit protection, thermal protection, 750µA off state current, wide input voltage range (2:1), 250mV dropout linear regulators, industry pinout, and a dual output tracking linear regulator. Applications for the new converters include High-Resolution Data Converters, as well as, various products in the Instrumentation, Test & Measurement and Telecom industries. Units are available 4-6 weeks ARO. Pricing is $53.10 each for single models, $54.50 each for dual models in OEM quantities.

About Beta Dyne - Beta Dyne, Inc. is a design-oriented electronics manufacturing company dedicated to providing the best of leading-edge technology for the Telecommunication, Computer, Instrumentation and associated industries. Beta Dyne designs and manufactures DC/DC Converters, Function Generators, Ring Generators, and Switching Regulators.

Customer Contact:

Beta Dyne, Inc.

110 Elm St, Unit 12

Bridgewater, MA 02324

USA

Tel 508-697-1993

Fax 508-697-2045

sales@beta-dyne.com

www.beta-dyne.com


More from Software