DC to DC Power Supplies (Converters)
DC/DC Converters meet needs of processor-equipped loads.
Press Release Summary: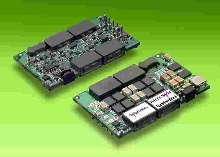 Typhoon(TM) isolated ¼-brick converters include 1.2 V Model LQS100A48-1V2, offering full load efficiency of 84.5%, and 1.8 V Model LQS80A48-1V8 providing 89.7% efficiency at full load. Units operate from 48 V input over full 36-75 Vdc input voltage range, and offer adjustable output voltage from 110% down to 80% of nominal value. They include short circuit, over-voltage, and thermal protection, and utilize single-board, open frame construction with double-pin footprint.
---
Original Press Release:

Artesyn Adds 100 and 80A Quarter-Bricks to Ground-Breaking Typhoon(TM) DC/DC Converter Family


o extreme power density and quasi-VRM performance meet needs of advanced processor-equipped loads increasingly used by wireless, networking, optical switching, IT OEMs

May 28, 2003 --- Artesyn Technologies (NASDAQ NM:ATSN) New power conversion topology has allowed Artesyn Technologies to produce DC/DC brick converters providing a quantum leap in performance. Delivering up to 100A from a single-board, quarter-brick module with a profile of just 7.7mm (0.3inch), new single-output converters in the Typhoon(TM) family have the performance to replace a half brick - while simultaneously supporting the trend to narrower card pitches. High efficiency and a dynamic response that is 'quasi VRM' deliver unsurpassed design flexibility.

This output current is believed to be up to 50% higher than competitive quarter brick products, and equivalent or greater than most current 'high-end' half-bricks. It allows developers to reduce converter footprints by approximately a third - continuing the breakthrough performance levels established by the initial members of Artesyn's Typhoon family - released in February 2003.

The two new isolated DC/DC converter introductions are the 100A, 1.2V-output LQS100A48-1V2 offering a full load efficiency of 84.5%, and the 80A, 1.8V-output LQS80A48-1V8 with 89.7% efficiency at full load. Future configurations will add 1.5, 2.5 and 3.3V output options. The modules operate from a standard 48V-input supply - over the full 36 to 75VDC input voltage range - and offer an output voltage that is adjustable from 110% down to 80% of nominal value, a range providing valuable flexibility for handling the 'off-target' power supply outcomes of many ASIC projects. The converters feature comprehensive short circuit, over-voltage and thermal protection, and utilize a single-board, open frame construction featuring a new 'double-pin' footprint standard for high current quarter bricks. All Typhoon brick converters are characterized for operation up to +85°C ambient; require no heatsink; and have no minimum load requirement.

As the maximum output of a brick is often the limiting factor in how much functionality can be squeezed onto a card, the use of Artesyn's new converter translates directly into step-change increases in system performance - a key design goal for many OEM developers of wireless, optical, routing and server equipment.

Additionally, the 80/100A devices have adopted the new industry-standard pin-out option known as 'THE Double P' - or THermally Enhanced Double Power pins. This provides an additional set of power and ground pins for current flow, addressing PCB manufacturing issues that can arise when attempting to route more than 50A through a single plated through-hole or via.

The Typhoon DC/DC converter performance breakthrough stems from topology based on a unique half bridge implementation, with processor control of both primary and secondary circuits, and next generation synchronous rectification circuitry. Removal of the inductor from the high current output path significantly reduces power losses for instance, and enhances airflow - resulting in more useable power.

Proprietary processor control of the secondary provides rapid and monotonic ramp-up of the output voltage at turn-on - even in the presence of a back-biased output up to 90% of the converter's output voltage; typical turn-on delay is just 12msec and ramp-up time is 2msec. The absence of opto-couplers greatly enhances dynamic response, supporting control loop bandwidths that are three or four times the speed of existing brick designs, achieving a transient response capability of up to 5A/µs.

The feature set of the new converters makes them ideally suited for the power management needs of the advanced processor-equipped silicon loads increasingly used in wireless, computing and networking infrastructure equipment - delivering reliable power in a low real-estate format. The single output quarter-brick series is particularly suited for advanced applications requiring multiple, high-performance semiconductors such as DSPs in mobile switching, ASIC and FPGA processor cores for switches and routers, and microprocessors for high-end servers.

The high efficiency of Artesyn's quarter brick modules provides exceptional thermal performance. A flat derating curve results in state-of-the-art levels of useable power, even at elevated ambient temperatures. The ultra low profile significantly simplifies the power system designer's job, minimising 'thermal shadowing' of other system components - even with very narrow card widths, or when mounted under mezzanine modules.

Samples are available for immediate delivery. In OEM quantities of 1000, unit prices for Artesyn's new quarter brick modules start at US$105.77, with a typical lead-time of 10 to 12 weeks.

Company Contacts:
Vice President of Worldwide Marketing
Todd Hendrix
Artesyn Technologies
125 Newbury Street, Suite 100
Framingham
MA 01701
USA
Tel: +1-508-424-2749
Fax: +1-508-424-2770
todd.hendrix@artesyn.com

Marketing Communications
Ms. Karen Scheldroup
Artesyn Technologies
7575 Market Place Drive
Eden Prairie
MN 55344
USA
Tel: +952 392 6538
Fax: +952 392 6677
karen.scheldroup@artesyn.com

PR Representative (USA & A-P)
Ira Sabran
Lodico & Co.
60 McAllister Drive
Carlisle, MA 01741
USA
Tel: 978 369 6556
Fax: 978 369 6284
isabran@bblcomm.com

More from Agricultural & Farming Products