DC to DC Power Supplies (Converters)
DC-DC Converters feature power factor correction.
Press Release Summary: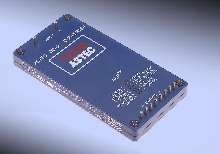 Series AIF-PFC surface-mount converter modules are parallel-configurable and can deliver up to 1,600 W of power from input range of 85-264 Vac. They offer power densities up to 290 W/in³. Embedded functions provide monitoring, protection, and adjustment capabilities as communication bus that can store end user information. Units operate from 40-100°C and reach 95% efficiency at 230 Vac input. Power Factor Correction is typically 0.99 at 2.3 A output.
---
Original Press Release:

Astec Power Introduces Next Generation Power Factor Correction (PFC) Converters


New Devices Offer 1600Watts of Output Power with Universal Input Voltage

CARLSBAD, Calif. - Sept 30, 2003 - Astec Power, a leading merchant supplier of power conversion solutions, today introduced their next generation of Power Factor Correction (PFC) converter modules, the AIF-PFC Series. The new AIF-PFC Series models are parallelable and can deliver up to 1600W of output power from a universal input range of 85Vac to 264Vac. With power densities up to 290 Watts per cubic inch, the new product increases power by 30 to 40 percent over the previous generation.

Beyond the pure advances in power density, the new AIF-PFC Series converters incorporate an extensive set of "embedded" functions that provide monitoring, protection, and adjustment capabilities as a communication bus that can store valuable end user information. This eliminates the need for designers to create these features externally on their circuit cards, while freeing up board space and further increasing the density of the design.

The new AIF-PFC Series can be operated at a wide baseplate temperature range from 40ºC up to 100ºC, and reaches 95 percent efficiency at 230Vac input. Key embedded functions include: universal input configuration, current sharing, Power Fail Warning and adjustment (PFC model will provide a warning signal if the output voltage cannot be maintained at the pre-programmed PFW threshold voltage, and this threshold voltage can be adjusted by PFW adjust pin), LD Enable (the signal can be used to enable the load after the PFC power up sequence has completed), PFC Enable (the PFC model can be enabled or disabled by external logic signal), Output Voltage Adjust; DC Input Enable; Clock-in/Clock-out (for synchronization in parallel applications), Temperature Monitor, Output Current Monitor; Positive and Negative Enable (options).

In addition to the numerous embedded functions, the AIF-PFC Series offers a 20mA Auxiliary DC Output for housekeeping circuits, Enhanced Protection Circuitry against input power interruption with automatic fast recovery, and Power Factor Correction (typically 0.99 at 2.3A output). With increasing requirements for storing and communicating significant end-user information, Astec Power has included an I2 C Interface to an internal EEPROM for data storage. The new models also offer a number of protection circuits such as OTP, OVP and OCP.

The AIF-PFC Series is designed with state-of-the-art components and employs a surface-mount design that simplifies manufacturing while enhancing the quality and reliability of the product series. As with all of Astec's DC-DC products, the AIF-PFC Series meets worldwide safety and performance standards including UL, cUL, TUV and CE.

The AIF-PFC Series devices are priced from $250 each in quantities of 100, and samples are available now. For more information contact a local Astec Power representative who can be found on the Astec Power web site at astecpower.com. Click on the SALES OFFICE button, on the home page, to locate the closest Astec Power representative.

About Astec Power
Astec Power is a leading international supplier of power conversion solutions. A wholly owned subsidiary of Emerson (NYSE:EMR), Astec Power is headquartered in Carlsbad, CA. Dedicated to advanced research and development, state of the art design, sophisticated automation and in-process testing, Astec Power produces standard, modified standard, and custom AC/DC and DC/DC power supplies, which range in size from one to 7,500 watts. In order to satisfy and continue to grow its international customer base, Astec Power has operations on three continents. Through this strategic allocation of its manufacturing resources, Astec Power delivers competitively priced quality products worldwide, in a timely and reliable manner.

About Emerson Network Power
Emerson Network Power is an Emerson business that provides a full spectrum of reliable power solutions, including inbound power, connectivity, power supplies, power systems and precision cooling, backed by the largest global services organization in the power industry. These Emerson companies serve the needs of telecommunications networks, data centers, health care and industrial facilities worldwide. For more information, visit www.emersonnetworkpower.com.

About Emerson
St. Louis-based Emerson is a global leader in bringing technology and engineering together to provide innovative solutions to customers in process control; electronics and telecommunications; industrial automation; heating, ventilation and air conditioning; appliances and tools. Emerson fiscal 2002 sales were $13.8 billion.

More from Computer Hardware & Peripherals