DC to DC Power Supplies (Converters)
DC-DC Converters feature 2250 VDC of isolation.
Press Release Summary: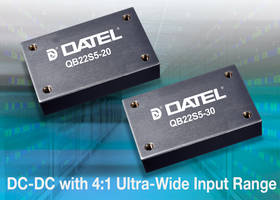 Housed in quarter-brick package, QB Series DC-DC Converters deliver up to 150 watts of power. Offering Input Under-Voltage Lock-Out and 9-36 V or 18-75 V of input range, units are operated in temperature range of -40 °C to +105 °C. Featuring positive or negative on/off control function, product comes with over current and continuous short circuit protection. Providing low no-load power consumption, converters come in 5, 12, 24, 28 and 48 V output voltages.
---
Original Press Release:
150 Watt Quarter-Brick, QB Series of DC-DC Converters
DATEL's QB family offers up to 150 watts of output power in an industry standard quarter-brick package/pin-out. This series features: ultra-wide input voltage ranges of 9 to 36 or 18 to 75VDC, high efficiency and isolation of 2250VDC in an encapsulated package with integrated baseplate, while providing a precise regulated output voltage.
DATEL Inc. has announced the introduction of a new Quarter Brick (QB) series that can deliver up to 150 watts of power. This new line of high power density DC-DC converters from DATEL is the preferred choice for military, industrial, distributed power architectures, telecommunications, and mobile applications.
Offering a wide 9-36V or 18-75V input range, this QB series delivers efficiencies up to 92%. The standard output voltages are 5, 12, 24, 28 and 48 volts that can be trimmed to a required voltage. These converters offer Input Under-Voltage Lock-Out (UVLO), and are fully protected against output overvoltage and over temperature conditions. All models have internal over current and continuous short circuit protection.
This QB series is offered in the standard Quarter-Brick footprint and operates over the extended temperature of -40ºC to +105ºC. It features a positive or negative On/Off Control function and 2250VDC of isolation. In addition, DATEL can supply the proper Heat Sinks for these converters.
Please contact DATEL if your application requires customized input/output voltages, alternate Heat-sink types, alternate packaging, UL/CSA 60950 or CE Mark 2004/108/EC. Other options available from DATEL include: models optimized for lower cost, higher power models using (2:1) input ranges, lower power/cost (75 Watt and 100 Watt family is available in 4:1 Vin), 60 Watt to 100 Watt versions for Railway Applications with 43 to 160VDC Inputs or 66 to 160VDC Inputs.
Please contact DATEL for more information on these models.
QB Series Product Data Sheet: http://www.datel.com/data/ps/qb-150watt.pdf
QB Series Product Information: http://catalog.datel.com/viewitems/es-dc-dc-converters-quarter-brick-dc-dc-converters/c-dc-converters-1-quarter-brick-qb-series-150-watt
Request Product Sample: http://catalog.datel.com/request/all-categories?
Product Highlights
Industry standard quarter-brick package/functions
4:1 Input voltage range
Efficiency up to 92%
Remote On/Off
Fixed switching frequency
Fully regulated output voltages
Low no-load power consumption
Continuous short circuit protection
-40ºC to +105ºC Operating temperature range
Voltage/current/over-temperature protection
Designed to meet shock vibration per MIL-STD-810F/EN61373
Designed to meet CE Mark 2014/30/EU/ UL 60950-1, N 60950-1 and IEC 60950-1
About DATEL, Inc.
DATEL is an employee owned US-based company dedicated to the military and aerospace market solutions. For several decades DATEL has worked closely with defense and Hi-Rel companies to provide fully qualified and MIL-Certified 883 components that meet customers' specific and stringent application requirements.
DATEL data acquisition products are designed and manufactured in a MIL-PRF-38534 hybrid certified fabrication facility located in Mansfield, Massachusetts, USA. The data acquisition product offering has grown to become one of the industry's broadest, designed to meet the ever-changing requirements of military, HI-REL, medical, scientific and industrial applications. DATEL is ISO-9001 certified, and ITAR registered.
In addition to our standard product offerings, DATEL is a leader in providing custom System-in-a-Package solutions (SIP) for special applications or pin-to-pin replacements for existing or obsolete components.
Contact:
DATEL, Inc.
11 Cabot Boulevard
Suite 200, Mansfield, MA 02048
Contact This Company Download Spec Sheet
Related