DC to DC Power Supplies (Converters)
DC/DC Converters, EMI Filters operate in harsh environments.
Press Release Summary: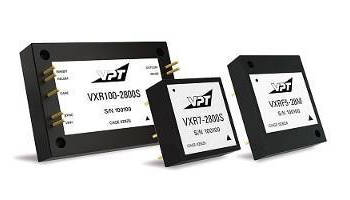 Available in 7–100 W models, VXR Series offers 9–60 Vdc continuous input range and 6–80 Vdc transient operation. Epoxy encapsulated packaging, which incorporates EMI shielding and dual-sided thermal conduction, is resistant to chemical, solvent, and salt environments. Control loop design provides fast transient response without optoisolators. For noise-sensitive applications, VXR EMI Filter Series with current ratings from 2–20 A meet MIL-STD-461 and DO-160 conditions.
---
Original Press Release:

VPT Adds VXR Series to Hi-Rel COTS Product Line



Wide Input Voltage Range and Advanced Packaging Technology for Superior Operation in Harsh Environments



BLACKSBURG, Va. – VPT, Inc. (VPT®), a HEICO company (NYSE:HEI.A) (NYSE:HEI), launched its new VXR Series of DC-DC Converters and EMI Filters today at the annual Association for Unmanned Vehicle Systems International (AUVSI) conference being held in Atlanta, Georgia. The VXR Series of DC-DC Converters and EMI Filters represent VPT's most advanced offering of its extensive line of high-reliability COTS DC-DC Converters and accessory products. Available in models ranging from 7 to 100 Watts with an industry leading wide continuous input voltage range from 9 to 60 VDC and transient operation from 6 to 80 VDC, the VXR Series is optimized for a broad range of applications from military ground vehicles to commercial and military aircraft, including the unique power needs of unmanned aerial and ground systems.



The VXR Series utilizes VPT's patent-pending advanced packaging technology. This proprietary encapsulation process incorporates EMI shielding and dual-sided thermal conduction. The integral epoxy encapsulated packaging is highly resistant to chemical, solvent and salt environments and is fully compatible with high-volume manufacturing processes including wave solder, cleaning solvents, high-pressure sprays and aqueous wash.



"The VXR Series of products is reliability and efficiency focused, utilizing a low-noise, fixed frequency wide input voltage range topology," said Jeremy Ferrell, VPT's Manager of Standard Product Engineering. "We achieved this high efficiency over a wide input voltage range with a proprietary precision-controlled synchronous rectification topology. The high efficiency design in-turn reduces the thermal management requirements. We also incorporated a proprietary control loop design that provides a fast transient response without the use of optoisolators."  Ferrell added, "For customers with noise sensitive applications, we developed the VXR EMI Filter Series with current ratings from 2 to 20 Amps that were specifically designed to meet specific MIL-STD-461 and DO-160 conditions when used with our VXR Series DC-DC Converters."



The VXR Series of DC-DC Converters and EMI Filters are available for immediate sale. Individual unit prices begin at $100 (USD) for volume quantities. Additional information on the VXR Series and specific product datasheets can be found at www.vptpower.com.



About VPT and HEICO

VPT, Inc., part of the HEICO Electronic Technologies Group, leads the industry in providing innovative DC-DC power converters, EMI filters, and custom engineering services for avionics, military, and space applications. Every day, global organizations like NASA, Lockheed Martin, Boeing, BAE Systems, the United States Air Force and many more depend on quality solutions from VPT to power critical systems. On the ground, in the air, or beyond, VPT provides the power conversion solutions driving critical missions that require high reliability. For more information about VPT, please visit www.vptpower.com.



HEICO Corporation (NYSE:HEI.A) (NYSE:HEI) is engaged primarily in niche segments of the aviation, defense, space and electronics industries through its Hollywood, FL based HEICO Aerospace Holdings Corp. subsidiary and its Miami, FL-based HEICO Electronic Technologies Corp. subsidiary. For more information about HEICO, please visit www.heico.com.



Products described in this communication are subject to all export license restrictions and regulations which may include but are not limited to ITAR (International Traffic in Arms Regulations) and the Export Administration and Foreign Assets Control Regulations.  Further restrictions may apply.  The information provided is considered accurate at time of publication, errors or omissions excepted.  VPT, Inc. reserves the right to make changes to products or services without prior notification and advises customers to obtain the latest version of all relevant technical information from VPT to verify data prior to placing orders. VPT, its logo and tagline are registered trademarks in the U.S. Patent and Trademark Office. All other names, product names and trade names may be trademarks or registered trademarks of their respective holders.



Contact:

Natalie Raines

Marketing Communications Manager

425-353-3010 x 8506

nraines@vptpower.com

VPT, Inc. www.vptpower.com



Web Site: http://www.vptpower.com

More from Electrical Equipment & Systems