DC to DC Power Supplies (Converters)
DC/DC Converters are suited for Mil-COTS applications.
Press Release Summary: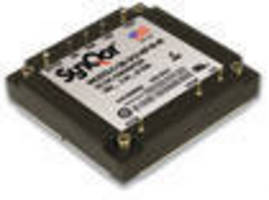 Mil-COTS 28 series isolated DC/DC converters operate from input voltage of 16-40 V continuously and withstand 50 V transients for up to 1 sec in temperatures from -55 to +100°C. Ruggedized 28 Vin units have output voltages from 1.2-50 V and adjustable trim from +10% to -20%, and isolation rating between input and output is at least 2,250 Vdc. Fixed switching frequency design yields predictable EMI filtering. Half-brick, quarter-brick, and sixteenth-brick packages are available.
---
Original Press Release:

SynQor Introduces 28 Vin DC/DC Converters to the Mil-COTS Market



Mil-COTS converters in half-brick, quarter-brick, and sixteenth-brick packages

Full power operation from -55°C to +100°C

BOXBOROUGH, Mass. - SynQor announces the release of its Mil-COTS 28 series of isolated dc/dc converters, expanding its MilQor offerings for the Military and Aerospace industries. These "off-the-shelf" converters operate from an input voltage of 16V to 40V continuously and will withstand 50V transients for up to 1 second, meeting MIL-STD-704D input voltage range requirements. Designed for cost sensitive Mil-COTS applications, these ruggedized, encased packages ensure survivability in demanding environments. SynQor brings its field proven, synchronous rectification technology to provide high efficiency converters that are designed and manufactured to comply with a wide range of military standards.

The high power density half-brick, quarter-brick and sixteenth-brick packages are fully encased and have industry standard footprints and pinout configurations. Although these efficient designs do not require a heatsink, the encased package will accommodate standard dc/dc converter heatsinks. A flanged baseplate version is also available.

The Mil-COTS 28 series undergo stringent qualification and characterization, with full component traceability and unique part serialization and are designed to conservative component derating guidelines. These converters are available in two options, an S-Grade or a more extensive M-Grade screening.

Fourteen output voltages from 1.2V to 50V have an adjustable trim from +10% to -20% (+/-10% for sixteenth-brick) to meet numerous application requirements. The fixed switching frequency design yields predictable EMI filtering and, when used in conjunction with a Mil-COTS EMI filter, differential mode noise is attenuated by more than 80dB and common-mode noise is attenuated by more than 36dB.

Protection features include input under-voltage lockout, output current limit and short circuit protection, active back-bias limit, output over-voltage protection and thermal shutdown. All models have at least 2250Vdc isolation rating between input and output, are rated with MTBF values in excess of 1MHrs at a baseplate temperature of 70°C.

The Mil-COTS 28 series of products are available immediately from stock for evaluation and qualification. Production quantities are available with 12 week lead-times, depending upon volumes. For more information please visit www.synqor.com/milqor-milcots/mcots28.html or contact your local SynQor representative.

About SynQor

SynQor, headquartered in Boxborough, Massachusetts is a leading supplier of power conversion solutions to the communications, computing, medical, military and industrial markets. SynQor's innovative products are designed to exceed the demanding performance, quality, and reliability requirements of today's power electronic engineers that are developing leading-edge infrastructure hardware. Our global customer base extends from small Original Equipment Manufacturers to Fortune 500 multinationals and includes the 12 largest telecom OEMs in the world. SynQor's capabilities include both standard and custom solutions for distributed power architectures and we deliver them with industry leading service and support. SynQor's total commitment to quality, customer satisfaction and continuous improvement drives our business processes and lays the foundation for our success. For more information about SynQor and its products, please visit the company's web site at www.synqor.com.

More from Mechanical Components and Assemblies