DC to DC Power Supplies (Converters)
DC/DC Converter Series has no minimum load requirement.
Press Release Summary: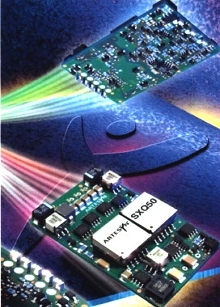 Surface-mount SXQ50 DC/DC converter series features outputs up to 50 W from quarter-brick, open-frame package which measures 2.3 x 1.46 x 0.4 in. Series employs fixed-frequency switching technology, and is available in four models with 5.0, 3.3, 2.5, or 1.8 V outputs (which can be trimmed from 90% to 110% of nominal). Units are rated to 20 A (1.8 and 2.5 V models), 15 A (3.3 V unit), and 10 A (5.0 V model). Input voltage ranges from 33 to 75 V.
---
Original Press Release:

ARTESYN LAUNCHES 50W SURFACE-MOUNT QUARTER-BRICK DC/DC CONVERTERS


- patent-pending switching technology yields conversion efficiencies of up to 90%

- open frame modules have above-board height of just 0.4 inches

Artesyn Technologies has launched a new family of surface-mount DC/DC converters that produce up to 50W of output power from a quarter-brick open-frame package that has a height of just 0.4 inches. Known as the SXQ50 series, the new converters employ patent-pending fixed-frequency switching technology to maximize conversion efficiency, resulting in very low internal power dissipation and excellent reliability. The first four models in the series are available with 5.0V, 3.3V, 2.5V or 1.8V outputs - which can be trimmed from 90% to 110% of nominal - and are capable of delivering very high currents. The 1.8V and 2.5V units are rated at up to 20A, the 3.3V unit at 15A, and the 5.0V model - which has a conversion efficiency of 90% - can deliver up to 10A.

Artesyn's SXQ50 series DC/DC converters are designed specifically to meet the low-voltage, high-current demands of latest-generation semiconductor devices. All the converters feature a wide input voltage range of 33V to 75V, making them particularly suitable for systems employing a 48V distributed power architecture, including any that operate from a -48V central office battery plant.

The converters have an industry-standard quarter-brick footprint of 2.3 x 1.46 inches (58 x 37mm) and are based on an open-frame, single-boar design which minimizes weight, simplifies thermal management, and reduces required board space. Their low profile also means that rack mounted systems can employ tighter inter-board spacings, which is becoming increasingly important as designers pack more functionality into ever-tighter spaces. Furthermore, Artesyn has specifically designed the layout of the converters' input/output connections to match some of the other leading quarter-brick converters on the market - including the company's own EXQ50 series of 50W through-hole mounting converters - thereby addressing manufacturers' needs to secure a second source option. Designers can very easily arrange for their PCBs to accommodate both surface-mount and through-hole mounting converters.

All SXQ50 series converters offer a voltage trim facility that enables the output to be adjusted between 90% and 110% of nominal. This is a particularly useful feature for systems designers who wish to perform margin testing by varying supply voltages, and it also allows standard off-the-shelf DC/DC converters to be used in applications involving highly specific voltage requirements, which would previously have demanded expensive customized power sources. All four converters in the series also offer a remote on/off facility, which is available with positive or negative logic. The converters have no minimum load requirement, and are comprehensively protected against over-and under-voltage, over-temperature and short-circuit conditions.

Artesyn's SXQ50 series DC/DC converters have a wide operational temperature range, spanning from -40°C to +90°C ambient. They feature a 1500VDC isolation rating and carry a full set of international safety approvals, including EN60950 (TUV Product Service) and UL/cUL60950. The converters are designed to meet all relevant standards for use in telecommunications equipment, including ETS 300-132-2 for maximum inrush current and supply voltage rise time. SXQ50 series converters meet the EN55022 level A standard for radiated emissions, and with the addition of a small number of external filtering components they can also meet the EN55022 level A and level B standards for conducted emissions.

Pricing for 1000-piece quantities is $66 US, and the standard lead time is stock to 8 weeks.

The Marketing Communications Manager for Artesyn Technologies' Power Group is Jackie Day, who is based in Youghal, Ireland. Jackie has worldwide responsibility for marketing communications. North American contact, is Karen Scheldroup, who is based in Eden Prairie, Minnesota.

Ms. Jackie Day
Artesyn Technologies
Springfield Industrial Estate
Youghal Co.
Cork Ireland

Tel: +353 24 25572
Fax: +353 24 25522
Email: jackie.day@artesyn.com

or

Ms. Karen Scheidroup
Artesyn Technologies
7575 Market Place Drive
Eden Prairie
MN 55344
USA

Tel: +952 392 6538
Fax: +952 392 6677
Email: karen.scheldroup@artesyn.com

About Artesyn Technologies

Artesyn Technologies, Inc., headquartered in Boca Raton, Fla, is a leading provider of advanced power conversion equipment and real-time subsystems to the communications industry. With one of the broadest portfolios of power products available, Artesyn offers customers a wide range of high efficiency AC/DC power supplies, as well as advanced DC/DC and Point of Load converters for distributed power architectures. Artesyn's line of WAN interfaces, CPU boards, DSP solutions and protocol stacks are also at work in many of today's leading Teledatacom networks. For more information about Artesyn Technologies and its products, please visit the company's web site at artesyn.com.

More from Electrical Equipment & Systems