DC/DC Converter provides more than 90% efficiency.
Press Release Summary: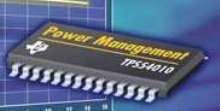 SWIFT(TM) TPS54010 step-down, continuous-output, 14 A converter features 2 peak 18 A FETs integrated onto single chip and provides 1% output voltage accuracy down to 0.9 V. Switching frequency is fixed over entire output current range, and can be adjusted up to 700 kHz. Synchronous unit features input range of 3-4 V, adjustable soft start, plus power good output and enable pin for sequencing. Load is protected by peak current limit and thermal shutdown.
---
Original Press Release:

TI Simplifies Low Voltage, High-Density Design with Integrated 14-A Power Conversion IC


DALLAS (Aug. 3, 2004) - Extending its family of easy-to-use SWIFT(TM) power management integrated circuits (ICs), Texas Instruments Incorporated (TI) (NYSE: TXN) today announced the availability of a high efficiency, step-down, continuous output 14-A DC/DC converter with peak 18-A FETs integrated onto a single chip. The new synchronous device gives point-of-load designers greater flexibility and faster time to market when designing 3.3-V industrial and telecom systems that use high performance digital signal processors (DSPs), field programmable gate arrays (FPGAs) and microprocessors. See ti.com/sc04097.

TI's high performance TPS54010 SWIFT (Switcher With Integrated FET Technology) converter provides more than 90 percent power efficiency and one percent output voltage accuracy (down to 0.9-V), while integrating an array of control and supervisory features. For better noise performance, the device's switching frequency is fixed over the entire output current range, and can be adjusted up to 700 kHz to reduce the size of passive components.

The SWIFT device supports high efficient synchronous buck operation, comes with an interactive software development tool and an evaluation module that helps power system level designers meet aggressive equipment development cycles. The SWIFT Designer software, available free through power.ti.com/swift, provides a bill of materials, reference schematic, loop response graphs and an efficiency curve based on the designer´s inputs. In addition, more than a dozen application notes on TI´s TPS54xxx family of SWIFT ICs are available for download to guide designers through such topics as sequencing, adjusting the output compensation, and designing with high-frequency applications.

Key Features of TPS54010:
o 90 Percent and Higher Efficiency at 14-A Continuous Output Current
o Input Voltage Range of 3-V to 4-V
o Output Voltage Adjustable Down to 0.9-V with One Percent Accuracy
o Two Integrated 18-A Peak MOSFETs
o Fixed or Programmable Switching Frequencies from 280 kHz to 700 kHz
o Load Protected by Peak Current Limit and Thermal Shutdown
o Adjustable Soft Start
o RDSon of 8 mOhms
o Power Good Output and Enable Pin for Sequencing
o Supports 3.3-V and 2.5-V Bus with Separate Power and Bias Voltage Pins
o Pin-Compatible with TI´s 6-A and 9-A SWIFT Converters (TPS54610 and TPS54910)

Availability, Pricing, Packaging
The TPS54010 is available today in volume production from TI and its authorized distributors. The device comes in a small 28-pin HTSSOP (6.4 mm x 9.7 mm), PowerPad(TM) package for thermal enhancement and space savings. Suggested resale pricing is $5.70 each in quantities of 1,000.

More from Electrical Equipment & Systems