DC to DC Power Supplies (Converters)
DC/DC Converter complies with range of military standards.
Press Release Summary: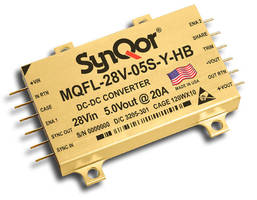 MilQor Hi-Rel MQFL-28V accepts continuous input voltages of 16-40 V, handles transient input voltages of 5.5-50 V for 1 sec, and operates at efficiencies up to 91%. Providing up to 100 W power, it is available with single output voltages of 3.3, 5, 12, and 28 V, operating in temperatures from -55 to +125°C. Boost-converter stage enables delivery of full power through transients when input falls to as low as 5.5 V. Short circuit and overload protection are featured.
---
Original Press Release:

SynQor's High-Reliability 28 V DC/DC Converters for Military Applications Offer Extended Input Range



Handles Under-Voltage Transients of 5.5V for 1s

MilQor® Hi-Rel Series Offers Efficiencies up to 91%

BOXBOROUGH, Mass., September 14, 2009 -SynQor announces the addition of the new MQFL-28V product family to its portfolio of Hi-Rel dc/dc converters. Incorporating SynQor's field proven high-efficiency synchronous rectifier technology, this advancement results in the only wide range input dc/dc converters developed specifically for the Military/Aerospace industry. To ensure survivability in the most hostile environments, the MQFL-28V series of 100W dc/dc converters is housed in full size (FL) packages using SynQor's innovative QorSeal(TM) packaging technology which includes tin whisker mitigation.

While the MQFL-28V accepts continuous input voltages of 16-40V, it is capable of handling transient input voltages of 5.5-50V @ 1 second. The MQFL-28V family incorporates a special "boost-converter" stage that permits the converters to deliver full power through transients where its input voltage falls to as low as 5.5V. The under-voltage transient profile is designed to comply with all initial engagement surges, starting or cranking voltage transients, and under-voltage surges specified in MIL-STD-704-8 (A through F), RTCA/DO-160E, MIL-STD-1275B and DEF-STAN 61-5 (Part 6)/5 (operational portions).

The MQFL-28V converters provide up to 100 W of power and are now available with single output voltages of 3.3V, 5V, 12V and 28V. Additional single output voltage versions include 1.5V, 1.8V, 2.5V, 6V, 7.5V, 9V and 15V.

These feature-rich MilQor Hi-Rel MQFL-28V converters operate at efficiencies up to 91% and are designed to operate from -55°C to +125°C with multiple screening options for less stringent environmental requirements. Standard features include fixed switching frequency, parallel operation with current share, remote sensing, output trim adjust, clock synchronization, primary and secondary reference enable, continuous short circuit and overload protecting, and input under-voltage lockout and input over-voltage shutdown. Complimentary EMI module solutions are available which include transient suppression circuitry, enable pass-through circuitry, and reverse polarity protection.

The MQFL-28V converters are compatible with industry standard formats, have no opto-isolators and follow NAVSO P3641A & MIL-HDBK-1547A component derating guidelines. MQFL-28 Hi-Rel converters are designed and manufactured to comply with a wide range of military standards, including Mil-Std-461(C, D, E) and RTCA/DO-160E (Section 22).
The MQFL-28V portfolio of Hi-Rel dc/dc converters is a more cost effective solution than existing hybrid chip-and-wire converters. Sample quantities are readily available, and production quantities are available with a standard lead-time of 12-16 weeks ARO, depending on screening options. For additional information, please see http://synqor.com/milqor-hirel/index.html.

About SynQor

SynQor, headquartered in Boxborough, Massachusetts is a leading supplier of power conversion solutions to the communications, computing, medical, military and industrial markets. SynQor's innovative products are designed to exceed the demanding performance, quality, and reliability requirements of today's power electronic engineers that are developing leading-edge infrastructure hardware. Our global customer base extends from small Original Equipment Manufacturers to Fortune 500 multinationals and includes the 12 largest telecom OEMs in the world. SynQor's capabilities include both standard and custom solutions for distributed power architectures and we deliver them with industry leading service and support. SynQor's total commitment to quality, customer satisfaction and continuous improvement drive our business processes and lay the foundation for our success. For more information about SynQor and its products, please visit the company's web site at www.synqor.com.