DC/DC Controller eliminates need for transformers.
Press Release Summary: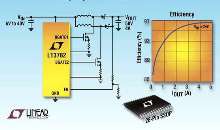 Using 2 inductors, step-up, 2-phase Model LT3782 can regulate 50 V output at 4 A load current with 96% efficiency from input source of 10-36 V. Unit includes adjustable slope compensation, time delay, and undervoltage lockout, as well as synchronous operation and clock synchronization. Operating from input range of 6-40 V, Model LT3782 uses constant frequency 150-500 kHz current mode architecture, and, with 10 V gate drive, it can drive industrial grade MOSFETs.
---
Original Press Release:

96% Efficient, High-Power, 2-Phase Step-Up DC/DC Controller without Transformers


Milpitas, CA - January 25, 2005 - Linear Technology Corporation introduces the LT3782, a step-up DC/DC controller with 2-phase operation to deliver high output power using only two inductors, eliminating the need for power and current sense transformers. The LT3782 can regulate a 50V output at 4A load current with 96% efficiency from an input source ranging from 10V to 36V. The 2-phase operation minimizes input and output ripple currents and reduces the value requirements of both the input and output capacitors. With 10V gate drive and 4A peak drive current, the LT3782 can drive industrial grade high power MOSFETs at high efficiency. Furthermore, with adjustable slope compensation, time delay, and undervoltage lockout, as well as synchronous operation and clock synchronization, a power supply designer can tailor the circuit to achieve optimum performance. Applications for the LT3782 include automotive, avionics, telecom and base stations where a step-up DC/DC converter must deliver high power with low heat dissipation and occupy a small space.

The LT3782 uses a constant frequency (150kHz to 500kHz) current mode architecture to improve both line and load regulation, reduce the size of inductors and capacitors and provide a precision pulse-by-pulse current limit. For synchronous applications, the LT3782 provides synchronous gate signals with programmable falling edge delay to avoid cross conduction when using external MOSFET drivers. The LT3782 operates from a wide input range of 6V to 40; the maximum output voltage is dependent on the choice of external components. Other features include soft-start to reduce inrush current and duty cycle clamp to protect the MOSFETs and improve system reliability.

The LT3782 is offered in a thermally enhanced 28-lead SSOP and is rated for operation from -40ºC to 125ºC. The 1,000-piece price is $4.70 each.

Summary of Features: LT3782
2-Phase Operation Reduces Required Input and Output Capacitance
Programmable Switching Frequency from 150kHz to 500kHz
6V to 40V Input Range
10V Gate Drive
High Current Gate Drive (4A)
Synchronizable Clock
Programmable Soft-Start, Current Limit, Slope Compensation and Undervoltage Lockout

Company Background
Linear Technology Corporation was founded in 1981 as a manufacturer of high performance linear integrated circuits. Linear Technology products include high performance amplifiers, comparators, voltage references, monolithic filters, linear regulators, DC-DC converters, battery chargers, data converters, communications interface circuits, RF signal conditioning circuits, and many other analog functions. Applications for Linear Technology's high performance circuits include telecommunications, cellular telephones, networking products such as optical switches, notebook and desktop computers, computer peripherals, video/multimedia, industrial instrumentation, security monitoring devices, high-end consumer products such as digital cameras and MP3 players, complex medical devices, automotive electronics, factory automation, process control, and military and space systems.

North America
John Hamburger
Tel: (408) 432-1900 ext. 2419
jhamburger@linear.com

Doug Dickinson
Tel: (408) 432 1900 ext. 2233
ddickinson@linear.com

More from Electrical Equipment & Systems