DC/DC Buck Converter offers DDR memory power solution.
Press Release Summary: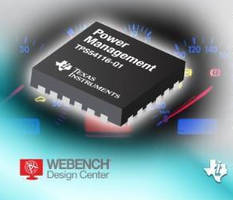 With 2.95–6 V input, Model TPS54116-Q1 offers power management solution for DDR2, DDR3, and DDR3L memory subsystems in automotive and industrial applications. Integrated low- and high-side power MOSFETs and 1 A peak sink/source DDR VTT termination regulator support 4 A of continuous output current. Supplied in 4 x 4 x 0.75 mm WQFN package, synchronous step-down converter provides up to 2.5 MHz switching frequency, which can be set above medium-wave radio band for noise-sensitive applications.
---
Original Press Release:
Introducing Industry's First Fully Integrated DDR Memory Power Solution
TI's 4-A synchronous DC/DC buck converter simplifies design and shrinks system size in automotive and industrial applications

DALLAS, -- Texas Instruments (TI) (NASDAQ: TXN) today introduced the industry's first fully integrated power management solution for double date rate (DDR)2, DDR3 and DDR3L memory subsystems in automotive and industrial applications. The TPS54116-Q1 DC/DC buck converter is a 2.95-V to 6-V input, 4-A synchronous step-down converter with a 1-A peak sink/source DDR termination and buffered reference that reduces system size by up to 50 percent compared to discrete implementations.

Designed for automotive applications such as infotainment, advanced driver assistance systems (ADAS) and instrument clusters, the TPS54116-Q1 can also power DDR memory in telecommunication, test and measurement, and factory automation equipment. Used in conjunction with TI's WEBENCH® online design tools, the TPS54116-Q1 simplifies power conversion and speeds the power-supply design process. For more information, samples and an evaluation module, see www.ti.com/tps54116q1-pr.

The newest addition to TI's industry-leading DC/DC converter portfolio, the TPS54116-Q1 buck converter provides up to 2.5-MHz switching frequency and minimizes solution size by integrating the MOSFETs and reducing inductor size. The switching frequency can be set above the medium-wave radio band for noise-sensitive applications and is synchronizable to an external clock. Read the blog post, "Four design tips to obtain 2-MHz switching frequency."

Download the Automotive Power Reference Design for Low Power TDA3x Based Systems to create an integrated, size-optimized power supply for ADAS featuring the TPS54116-Q1 when using TI's TDA3 system on chip.

TPS54116-Q1 key features and benefits

Integrated low- and high-side power MOSFETs and a 1-A sink/source DDR VTT termination regulator support 4 A of continuous output current.
Current-mode control with external clock-synchronization capability keeps the frequency fixed across the entire output load range.
Automotive Electronics Council (AEC)-Q100 qualified with 4-kV electrostatic discharge (ESD) protection for automotive applications.

About WEBENCH tools from Texas Instruments
The WEBENCH Designer and Architect component libraries include more than 40,000 components from 120 manufacturers. TI's distribution partners update price and availability hourly for design optimization and production planning. Offered in eight languages, users can compare complete system designs and make supply-chain decisions in minutes. Start a cost-free design in TI's WEBENCH design environment.

Availability, packaging and pricing
Available in volume now from the TI store and authorized distributors, the converter is packaged in a thermally enhanced 24-pin, 4-mm-by-4-mm-by-0.75-mm very thin quad flat no-lead (WQFN) package and priced at US$2.50 in 1,000-unit quantities. The TPS54116-Q1EVM-830 evaluation module is also orderable from the TI store and distributors.

Find out more about TI's power portfolio

Get more information on all DDR memory solutions from TI.
See all power-supply designs in TI's reference design library.
Search for solutions, get help and share knowledge in the TI E2E™ Community Power Management forum.

About Texas Instruments
Texas Instruments Incorporated (TI) is a global semiconductor design and manufacturing company that develops analog integrated circuits (ICs) and embedded processors. By employing the world's brightest minds, TI creates innovations that shape the future of technology. TI is helping more than 100,000 customers transform the future, today. Learn more at www.ti.com.

Trademarks
WEBENCH is a registered trademark and TI E2E is a trademark of Texas Instruments. All other trademarks belong to their respective owners.

CONTACT: Gayle Bullock, Texas Instruments, 669-721-3133, gayle.bullock@ti.com
More from Architectural & Civil Engineering Products