DC Ammeters mate directly with 50 and 100 mV shunts.
Press Release Summary: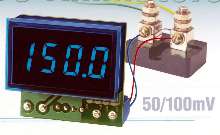 Series DCA5-20PC ammeters scale, digitize, and display output of 50 and 100 mV dc shunts. Direct-connect units are fully self-contained and accommodate supply voltages from 5-75 Vdc. They offer 11 current ranges from 0-1 A to 0-2000 A. Power supply options include 5-40 Vdc for 5/12/24/28 V applications, 8-36 Vdc for floating shunts, and -36 to -75 Vdc for -48 V Telco applications. Units are housed in 1.38 x 0.88 in. plastic package with 0.37 in. high LED display. Accuracy is ±0.1%.
---
Original Press Release:

Digital DC Ammeters Mate Directly with Standard 50mV & 100mV Shunts


LED-Display Ammeters Scale and Digitize Shunt Voltages to Read Out DC Currents from 1 to 2000 Amps

DATEL's New DCA5-20PC Series
o Outstanding upgrades for analog dc ammeters
o "Direct connect" to standard 50/100mV dc shunts
o 11 current ranges from 0-1A to 0-2000A
o ±0.1% guaranteed accuracy
o Large (0.37"/9.4mm) red, green or blue LED displays
o 3 wide-range power-supply options:
5-40Vdc for 5/12/24/28V applications
8-36Vdc isolated for "floating" shunts
-36 to -75Vdc for -48V Telco applications
o Miniature 1.38" x 0.88" package with I/O terminal blocks
o 44 different models

Simplify All 50mV & 100mV Shunt Applications
DATEL's new DCA5-20PC Series are LED-display dc ammeters that precisely scale, digitize, and display the output of standard 50mV and/or 100mV dc shunts. The "direct-connect" DCA5's are fully self-contained (with the obvious exception of the user-supplied shunt) including buffered inputs, scaling circuitry, precision reference circuits, 3½ digit A/D converters, LED displays, display drivers, DC/DC power converters, and even screw-style terminal blocks for connecting the signal and supply lines.

Choose from 44 Models
Simply select the dc current range you want (11 ranges from 0-1 Amp to 0-2000 Amps), the LED display color you prefer (brilliant blue, bright green or standard red), and the power-supply option you need (see below). Connect the Kelvin outputs of the shunt directly to the meter. Turn on the power, and you're instantly measuring dc currents with guaranteed, factory-calibrated, ±0.1% accuracy!

Flexible Power...Low Power Consumption
Perfect for automotive, industrial, telecom/datacom, and marine applications, DCA5-20PC dc ammeters accommodate all supply voltages from 5 to 75Vdc. There are two basic shunt/power configurations.

"Low-side," grounded-shunt models (5-40Vdc power) target conventional ammeter applications in which one side of the shunt is connected to power ground. These models consume a mere 75mW and are perfect for battery-backup usage. They also operate from -36V to -75Vdc power, accommodating the popular -48V telecom power bus.

"High-side," floating-shunt models (8-36Vdc power) incorporate on-board, isolated DC/DC converters (500Vdc isolation). These models target applications in which neither side of the shunt is tied to power ground. Incredibly flexible, isolated models consume 1 Watt and can be used in any dc ammeter application without concern for common-mode or ground-loop problems.

Rock-Solid Construction
DCA5-20PC Series ammeters are housed in rugged, 1.38" x 0.88" (35mm x 22mm) plastic packages that feature a large, 0.37"/9.4mm high, LED display. An integral high-contrast optical filter ensures the display can be easily read at distances up to 15 feet (5 meters). Available LED colors include brilliant blue, bright green, and standard red.

All input and supply connections are made by way of two screw-style terminal blocks. For added flexibility, vibration resistant, computer-style jumpers are provided for range-specific decimal-point assignments. And, to ensure trouble free installation, all models include input over-voltage protection, input reverse-polarity protection (the isolated models will actually read negative currents), and power-supply reverse-polarity protection. A panel mount bezel with EPDM sealing gasket is supplied with each unit.

Price and Availability
DCA5-20PC Series ammeters are competitively priced at $50 (USA) each for singles and $33 each at 500-piece quantities. Additional quantity discounts are available for OEM's.

Small quantities (<25 pieces) and free sample/evaluation units for qualified OEMs are immediately available from stock. Production quantities require 6-8 weeks.

We Also Sell Shunts
For one-stop shopping and guaranteed compatibility, DATEL offers a complete line of accessory shunts to go with DCA5-20PC Series dc ammeters.

Order On-Line
DATEL, Inc. has e-commerce capabilities and full technical support for 300+ digital panel meters, process monitors and AC/DC converters at our website @ www.datel.com. Small quantities of DCA5-20PC dc ammeters, or free sample/evaluation units, can be ordered directly from the site using credit cards.

Editorial and Technical Contact:
Roy Cabral, Product Marketing Manager
E-mail: royc@datel.com Internet: www.datel.com
Tel: (508) 339-3000, (800) 233-2765 (USA)
Fax: (508)-339-6356

Related