DC-AC Inverter suits 10-17 in. industrial-grade LCD panels.
Press Release Summary: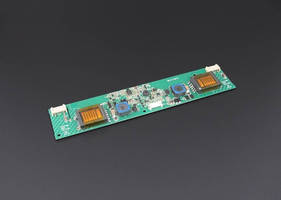 Designed for driving cold-cathode fluorescent lamps in LCD back-lighting applications, RoHS-compliant LS6D-1012A-RH provides input of 12 Vdc and output current of 3.3-6 mArms/lamp. Measuring only 7.09 x 1.46 x 0.39 in, device has power output of 5 W/lamp, or 10 W total. Other features included are 1,500 Vrms minimum start-up voltage, 2 A maximum input current and operating and storage temperature ranges of -20 to +70°C and -30 to +85°C, respectively.
---
Original Press Release:

Taiyo Yuden Introduces DC-AC Inverter for Backlighting Two 10 - 17" Industrial LCD Panels



Schaumburg, IL - (February 23, 2009) TAIYO YUDEN (U.S.A.), INC., announces the LS6D-1012A-RH-the latest addition to its extensive line-up of compact, low-profile DC-to-AC inverters for driving cold-cathode fluorescent lamps (CCFL) in Liquid Crystal Display (LCD) back-lighting applications. Designed specifically for use with 10-17" industrial-grade LCD panels, the LS6D-1012A-RH provides dual LCD panel capability. It features brightness / backlight on-off control.

This high-efficiency device is widely used in medical electronics, machine tools, digital signage, point-of-sale / kiosks, touch-screen and test & measurement equipment applications.

Available now in OEM quantities, the RoHS-compliant LS6D-1012A-RH LCD backlight driver provides an input of 12Vdc and an output current of 3.3-6mArms per lamp. The device's CCFL driving circuit includes a self-oscillating DC-to-AC converter, known as a Royer circuit, which minimizes EMI compared to other control methods. Total device power output is 5W per lamp, or 10W total. Physically, the LS6D-1012A-RH measures only 7.09" (180mm) L x 1.46" (37mm) W x 0.39" (10mm) H. Other specifications include 1500Vrms minimum start-up voltage, 2A maximum input current and wide operating and storage temperature ranges of -20 to +70°C and -30 to +85°C, respectively.

Price: $38.80 each at OEM quantities
Availability: Now
Delivery: 16 weeks ARO for large OEM orders

About TAIYO YUDEN:

Now in its 59th year, Tokyo-based TAIYO YUDEN CO., LTD. is a worldwide manufacturer of surface-mount and leaded passive components, Bluetooth modules, CCFT inverters and recordable digital media. With approximately 50% of the worldwide market in high-frequency multilayer chip inductors used in cell phones, the company reports annual sales of US$2.06B. Worldwide, TAIYO YUDEN employs more than twenty thousand people. The company's North American affiliate, TAIYO YUDEN (U.S.A.), INC., operates sales and engineering offices in Chicago IL, Boston MA, Raleigh NC, Irving TX, Denver CO and in California at San Jose and San Diego.

For more information, visit www.t-yuden.com,

TAIYO YUDEN (U.S.A.) INC.

1930 Thoreau Drive, Suite 190

Schaumburg, IL 60173

(847) 925-0888

Fax: (847) 925-0899

Contact: Yaeko Minamikawa

Email: sales@t-yuden.com

Web site: www.t-yuden.com

More from Optics & Photonics