DC to AC Power Supplies (Inverters)
DC/AC Inverter meets NEBS/Telco standards.
Press Release Summary: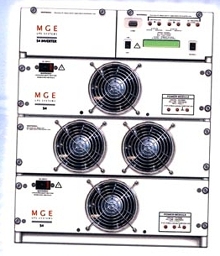 Redundant, -48 Vdc Topaz S4 meets Network Equipment Building Standards (NEBS) standard for mission-critical telecom and data applications, and has UL, CSA CE, TUV and FCC class A approvals. Inverter is scalable from 3.5 kVA up to 2l kVA in N+l configurations. Redundant power modules are hot swappable within rack-mountable receiver cabinet. AC distribution panel accommodates 20 single-pole breakers and is available in 120 and 240 Vac versions.
---
Original Press Release:

New Topaz S4 DC/AC Inverter Delivers Critical AC Power; First Inverter Designed to Meet Strict NEBS/Telco Standards


COSTA MESA, Calif. - March 7, 2002 - MGE UPS SYSTEMS, the technology leader in uninterruptible power supplies (UPS) for telecom and network systems, today introduced its new Topaz S4 Inverter. This new scalable N+1 DC/AC inverter system increases reliability and availability of AC power systems for power hungry mission-critical telecom and data applications. Delivering six 9's of reliability, the new S4 inverter is a scalable solution specifically designed to meet the demanding power requirements of today's central offices, wireless base stations and ultra-critical servers. The S4 is the first inverter system designed to meet the rigorous NEBS standards, critical for telecom switches and other zero downtime applications.

The -48VDC S4 inverter offers paralleled synchronized operation while its N+1 redundancy is achieved with two or more units connected in parallel. In addition, to avoid any single points of failure, the compact DC/AC inverter uses redundant power modules which are hot swappable within its "fast swap" rack mountable receiver cabinet. Its user-selectable voltages and frequencies allow for greater system flexibility - ideal for international applications. The new Topaz inverter keeps the load on "protected power" for mid-level IT and telecom data center applications that require "zero down time."

The rack-mount inverters are easily scalable from 3.5kVA up to 2lkVA in a N+l configuration. This modular scalability makes the Topaz S4 ideal for overlay applications where future power growth is anticipated. All modules are packaged into a "hot swap" receiver cabinet allowing for quick front access and rapid and safe exchange of components without taking the system off-line, eliminating the chance of downtime.

For the highest level of reliability, MGE has incorporated three independent layers of redundancy into the S4. N+l inverter assemblies, dual independent microcontrollers and an integrated static transfer
switch provide uninterrupted performance. In addition, to minimize noise in large telecom battery plants, the S4 features a high grade noise filter which limits ripple current on the battery and ensures that radiated and conducted EMI meet strict industry standards.

For advanced, yet easy-to-use web-based monitoring, the optional Falcon facility monitoring system provides inverter, maintenance bypass and AC distribution status over a closed network or via the Internet, serving up web pages that can be viewed with a standard browser, via SNMP or dial-up access. Alarm notification is quickly available through email, pager, SNMP traps and/or through a web interface. Environmental monitoring modules and auxiliary inputs that monitor other devices such as web cameras, air conditioning and switchgear equipment are also available as accessories to the Falcon system.

Also available for the S4 inverter is an optional Maintenance Bypass assembly. The Bypass safely and seamlessly transfers the output to an alternate AC source allowing the inverter to be shutdown or removed without interrupting power to the critical loads. For maximum AC distribution, the AC distribution panel accommodates 20 single pole breakers and is available in 120 and 240 VAC versions.

For a total rack solution, MGE can mount all components on an optional 23-inch open frame relay rack with the inverter plant certified for zone 4 seismic installations. In addition, an optional conduit junction box is also available to simplify installation of rear or side mounted cable entry systems for the larger l4kVA-21kVA inverter systems.

Specifically designed to meet the rigors of the Network Equipment Building Standards (NEBS) standard, the Topaz S4 inverter also meets UL, CSA CE, TUV and FCC class A agency approvals.

Available now, the Topaz S4 inverter pricing starts at $8,277 list for the 3.5kVA system. For more information, contact MGE UPS SYSTEMS at 800-523-0142 or via their web site at: www.mgeups.com.

About MGE:
MGE UPS SYSTEMS is a global provider of power quality solutions designed to increase the availability and uptime of any mission - critical application or process. From desktop PCs to large Data Centers and telecommunication facilities to semiconductor manufacturing plants, MGE's UPS product and service solutions are deployed around the globe.

For over 35 years, MGE UPS SYSTEMS products have been the choice of the world's largest and most demanding companies and organizations. Always ready to satisfy new needs, MGE UPS SYSTEMS together with its 37 subsidiaries, 150 sales and customer service offices and production facilities in Europe, the USA and Asia as well as two R&D centers - in Grenoble, France and Costa Mesa, California, MGE can easily meet customer expectations throughout the world.

To learn more about MGE's innovative power protection solutions, visit MGE's web site at: www.mgeups.com or call MGE at 800-523-0142.

Contact:
Nancy Nelson
Public Relations Manager
714-513-7363
nancy.nelson@mgeups.com

or

Agency Contact:
P.J. Jennings
Jennings & Associates
760-431-7466
pj@free-ink.com

<>

Doris Cheng
Senior Account Coordinator
Jennings & Associates Communications, Inc.
Promoting Technology Around the Globe
doris@free-ink.com
free-ink.com
760-431-7466 voice
760-431-1406 fax


More from Architectural & Civil Engineering Products