Davis-Standard at CMM International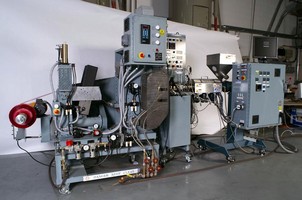 (Fulton, NY)--Davis-Standard will exhibit at booth #807 during the CMM show in Rosemont, Illinois, June 4 - 7, 2007. The company's team of flexible packaging and converting experts will be available to discuss the full range of cast film, blown film, extrusion coating and liquid coating technology. This includes information about the Black Clawson Converting Machinery, Egan,
ER-WE-PA and Davis-Standard product lines. A visual simulation showing the Killion inspection system, which automatically detects and classifies defects such as gels, contamination, black specs and pin holes in cast film, blown film, sheet and nonwovens, will be at the booth. A special version of this system is available as a problem solving tool for film producers or for improved product quality for resin and chemical companies.

For more information prior to the show, contact Christine Maxam at maxamc@bc-egan.com.

More from Material Processing