Daughtercard Connector boosts performance up to 20 Gbps.
Press Release Summary: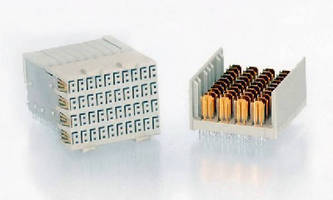 Designed to minimize crosstalk, Z-PACK HM-Zd Plus offers density of up to 40 differential pairs per linear inch. Connector is available in 2, 3, and 4 pairs per column - fitting 20.32 mm slot-pitch for 2- and 3-pair versions and 25.4 mm slot-pitch for 4-pair version. With integrated pre-alignment features and polarization built into mating interface, connector is suited for hubs, routers, switches, servers, test and measurement equipment, and medical diagnostic equipment.
---
Original Press Release:
New Daughtercard Connector from TE Connectivity Enables Quick System Upgrades to Boost Performance Up to 20 Gbps
HARRISBURG, Pa. - TE Connectivity announces the release of its Z-PACK HM-Zd Plus daughtercard connector, designed for improved via impedance, lowered crosstalk and increased data rate performances up to 20 Gbps. The product - an addition to TE's broad portfolio of high-speed backplane connectors - is fully compatible with previous HM-Zd connectors to allow users to quickly and efficiently upgrade their current system architectures with a higher, faster performance design while maintaining the capability to mate with existing backplane connector offerings. The Z-PACK HM-Zd Plus daughtercard connector significantly lowers PCB footprint crosstalk, allowing users to run faster data rates. In addition, the product's contacts have been designed with a smaller eye-of-the-needle (0.46mm) for tighter impedance control that provides superior electrical performance. As a result, the connector design helps improve insertion loss characteristics. The Z-PACK HM-Zd Plus daughtercard connector offers density up to 16 Differential Pairs (DP) per centimeter (40 DP per linear inch) in a 25.4mm slot-pitch. It is available in two, three and four pairs per column - fitting a 20.32mm slot-pitch for the two- and three-pair versions and a 25.4 mm slot-pitch for the 4-pair version. Integrated pre-alignment features and polarization are built into the product's robust mating interface. Target applications include telecommunication equipment such as hubs, routers and switches; data networking equipment such as servers and storage devices; test and measurement equipment; and medical diagnostic equipment. The Z-PACK HM-Zd Plus daughtercard connector meets the Advanced Differential Fabric requirements of the PICMG 3.X. Advanced TCA (ATCA) specification, making it well suited for various ATCA next-generation applications. TE additionally offers ATCA power modules and ATCA guidance hardware. To download product specifications, visit www.te.com/products/hmzdplus. To speak to a technical representative, contact the Product Information Center at 1-800-522-6752. About TE Connectivity
TE Connectivity is a global, $14 billion company that designs and manufactures approximately 500,000 products that connect and protect the flow of power and data inside the products that touch every aspect of our lives. Our nearly 100,000 employees partner with customers in virtually every industry-from consumer electronics, energy and healthcare, to automotive, aerospace and communication networks-enabling smarter, faster, better technologies to connect products to possibilities. More information on TE Connectivity can be found at http://www.te.com. Z-PACK, HM-Zd, TE Connectivity, TE connectivity (logo) and TE (logo) are trademarks. Other logos, product and/or Company names might be trademarks of their respective owners. www.te.com
More from Electrical Equipment & Systems