Datalogging/Trending Clamp Meter helps find intermittent faults.
Press Release Summary: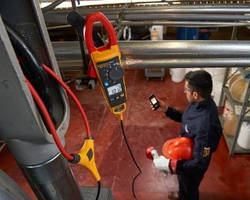 Without requiring technician presence, Fluke Connect®-enabled 370 FC Series logs measurements to pinpoint intermittent faults. Measurements, sent wirelessly to Fluke Connect app on smartphones or tablets and automatically uploaded to the cloud, keep technicians outside arc flash zone and away from dangerous moving machinery to improve safety. Carrying CAT IV 600 V and CAT III 1,000 V safety rating, meters also feature in-rush measurement technology and variable frequency drive low pass filter.
---
Original Press Release:

Fluke 370 FC Series Clamp Meters Log and Trend Measurements to Pinpoint Intermittent Faults



New Fluke clamp meters add logging and wireless data transfer for safer, remote measurements



EVERETT, Wash. – Often the most frustrating task for electricians and maintenance technicians is to troubleshoot intermittent faults because they rarely occur at convenient times. The new Fluke Connect®-enabled 370 FC Series Clamp Meters log measurements to pinpoint intermittent faults precisely without the need for the technician to be present. Those measurements are then wirelessly transmitted to the Fluke Connect app on smartphones or tablets and automatically uploaded to the cloud, keeping technicians outside the arc flash zone and away from dangerous moving machinery, improving safety.



The CAT IV 600 V, CAT III 1000 V safety-rated clamp meters offer advanced troubleshooting performance to capture a wide range of measurements with a single tool, including:



--  Proprietary in-rush measurement technology to filter out noise and capture motor starting current exactly as the circuit protection sees it;

--  Integrated variable frequency drive low pass filter (376 FC and 375 FC models only) for accurate motor drive measurements;

--  True-rms voltage and current for accurate measurements on non-linear signals;

--  500 mV dc measurement range to interface with other accessories (376 FC and 375 FC models only); and

--  Expanded measurement range to 2500 A ac with the iFlex flexible current probes, which provide access to large conductors in tight spaces.



As part of Fluke Connect® -- the industry's largest system of software and more than 30 wireless test tools -- technicians can wirelessly transmit measurement data from the 370 FC Series clamp meters and other test tools to their smartphones for secure storage on the Fluke Cloud™ and team access from the field. With the Fluke Connect smartphone app, technicians can combine measurement data from multiple Fluke Connect test tools to create and share reports from the job site via email and collaborate in real time with other colleagues with ShareLive™ video calls, increasing productivity in the field.*



For more information on the Fluke 370 FC Series Clamp Meters, visit: www.fluke.com/376fc.



For information on Fluke tools and applications, or to find the location of your nearest distributor, contact Fluke Corporation, P.O. Box 9090, Everett, WA USA 98206, call (800) 44-FLUKE (800-443-5853), fax (425) 446-5116, e-mail fluke-info@fluke.com or visit the Fluke Web site at http://www.fluke.com.



About Fluke

Founded in 1948, Fluke Corporation is the world leader in compact, professional electronic test tools. Fluke customers are technicians, engineers, electricians, and metrologists who install, troubleshoot and manage industrial, electrical and electronic equipment and calibration processes.



Fluke is a registered trademark of Fluke Corporation. The names of actual companies and products mentioned herein may be the trademarks of their respective owners. For more information, visit the Fluke website.



* Within your provider's wireless service area and subject to your plan's pricing and other terms. Fluke Connect is not available in all countries.  Some Fluke Connect features require a subscription subject to payment terms and may not be available in all countries.



For more information:

Dan Wright

Communications Manager

(425) 446-5638

dan.wright@fluke.com



Web Site: http://www.fluke.com

More from Sensors, Monitors & Transducers