Datalogger supports sampling speeds to 10,000 measurements/sec.
Press Release Summary: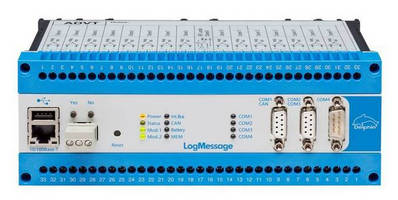 LogMessage 4000 performs data acquisition using 8 differential analog inputs recording mV, mA, and thermocouple signals, with galvanic isolation of up to 100 Vdc to minimize noise. All analog inputs are separately configurable and usable with all thermocouple types. In addition to 28 digital inputs for frequency measurements, features include 4 serial interfaces, up to 16 GB local memory, and Ethernet interface. Datalogger can be switched via software to function with any type of sensor.
---
Original Press Release:

High Speed Data Acquisition from CAS DataLoggers



Fast Sampling Speeds at a Cost-Effective Price

CHESTERLAND OH-CAS DataLoggers and Delphin Technology have partnered to offer the newest high-speed data logging solution, the LogMessage 4000 Data Logger. Supporting extremely high sampling speeds of up to 10,000 measurements per second, this new model is already seeing common use in a wide variety of industrial applications including PC-independent machine monitoring, capturing pressure spikes and other high-speed sampling tasks, product testing, temperature data acquisition, and many more. Users gain reliable stand-alone recording, a large number of digital inputs, and user-friendly operation at cost-effective pricing.

This new DAQ system performs data acquisition using 8 differential analog inputs recording mV, mA, and thermocouple signals, with galvanic isolation of up to 100 VDC to minimize noise. This new system is part of the recently-improved LogMessage 1000-9000 series data loggers building on the popular LogMessage x00 line.

The high-speed LM4000 logs data at sampling rates as high as 10,000 measurements per second to tackle the most demanding projects, with all 8 analog inputs being separately configurable and usable with all thermocouple types for precise temperature measurements. The data logger also has 28 digital inputs for frequency measurements and utilizes pre-installed reference points so users can connect with any thermocouple type and start logging data.

As with all models in the upgraded LogMessage series, the LM4000 system includes 4 serial interfaces, up to 16 GB of local memory, an Ethernet interface, and even more capabilities. These advanced systems can be switched via software to function with any type of sensor. Users can measure mA or mV signals from the analog inputs and use a 4-wire connection to feed Pt100 and Pt1000 sensors directly from the LogMessage device. Scaling is performed immediately according to the required measurement unit. Users can send their data online to a PC using the LogMessage LAN interface which is galvanically isolated up to 100VDC along with its power supply and all other interfaces. All LogMessage data acquisition systems are fully protected against earth loops, enabling measurements from non-isolated sources.

Users requiring stronger data security over PC-based solutions can rely on the LogMessage 4000's standard data storage capacity of up to 250 million measurements, expandable to 1 billion. Records are recorded with a timestamp and datestamp. ProfiSignal Go software is included with the LogMessage for measurement analysis of any type of data and online/offline monitoring. Users can also view measurement data as trends and diagrams. Delphin's integrated DataService software provides data storage, archiving, and alarm management/monitoring functions. Data organization and accessibility is simple by exporting as a CSV-file.

For more information on the new Delphin LogMessage 4000 data logger, more data loggers in the upgraded LogMessage series, or to find the ideal solution for your application-specific needs, contact a CAS Data Logger Applications Specialist at (800) 956-4437 or visit the website at www.dataloggerinc.com.

Contact Information: CAS DataLoggers, Inc. 12628 Chillicothe Road Chesterland, Ohio 44026; (440) 729-2570; (800) 956-4437; sales@dataloggerinc.com www.dataloggerinc.com

More from Software