Datacenter PDU offers alternating phase outlets.
Press Release Summary: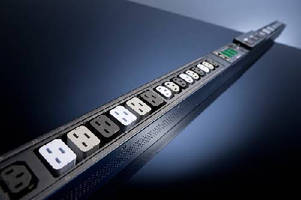 With High Density Outlet Technology, HDOT Switched All-in-1 Power Distribution Unit fits 42 C13's in 42U high network managed device. Alternating Phase outlets distribute phases on per-receptacle basis, simplifying load balancing and cable management. Unit is built on PRO2 hardware and firmware platform, which supports all modern security protocols, redundant features, and advanced customization. Power options include 3-phase 208 V, 30 A; 3-phase 208 V, 60 A; and 3-phase 415 V, 30 A.
---
Original Press Release:

Server Technology Inc. Introduces the All-in-1 PDU Solution - HDOT Switched on the PRO2 Platform with Alternating Phase Outlets



RENO, Nevada, – Server Technology combined three of its leading patent pending technologies into one PDU; HDOT Switched on the PRO2 platform with Alternating Phase outlets. This All-in-1 cabinet PDU is the most innovative power product on the market, with solutions for density, capacity planning and uptime for the modern data center.



"Based on the great success of our HDOT Smart product line released a year ago, we are now following that up with the release of three HDOT products in our Switched family. Our customers have spoken; they want more outlets in a smaller package, the right outlets in the right place, alternating phase outlets, and high operating temperatures. Server Technology delivers all that and more," said Travis Irons, Director of Engineering.



The HDOT Switched PDU is the most versatile PDU platform for today's demanding data center environment. Server Technology has converged their three top solutions All-in-1 PDU. It includes:



--  High Density Outlet Technology (HDOT) most outlets, in the right place, in a smaller form factor.

--  Alternating Phase Outlets provide better airflow, easy load balancing, and greater efficiencies.

--  PRO2 Platform a flexible and feature rich hardware and firmware platform



The HDOT Switched product line includes the following power options: 3-phase 208V 30A, 3-phase 208V 60A, and 3-phase 415V 30A (400V 32A for international). Cord entry options are front face or bottom end. Two outlet modules to select for each of the two positions in the assembly: 18xC13 or 12xC13+6xC19.



HDOT - To combat the limited physical space that PDUs compete for in the data center rack, Server Technology developed High Density Outlet Technology (HDOT), the smallest form factor PDU which significantly increases real estate in the back of the rack by fitting 42 C13's in a 42U high network managed PDU device--that's over 30 percent smaller than a comparable PDU using standard outlets. This was accomplished by removing the shell that surrounds commercially available C13 and C19 outlets, and creating a series of multi-outlet modules in a variety of configurations that fit into a common monolithic metal enclosure. To exploit this design and the thousands of variations it makes available, Server Technology developed a quick turn manufacturing process that provides short lead times for PDU's with the exact combination of C19 and C13 outlets in the locations where the customer needs them. The HDOT design implements high native cord retention, reducing or eliminating the need for custom and costly ancillary locking cord devices.



With increasing outlet density comes increased power, and potentially increased heat. HDOT is manufactured with robust high temperature materials carrying a UL94 V-0 flame rating, making these outlets ideally suited for the harshest data center environments.



Alternating Phase - To simplify load balancing and cable management, Server Technology offers PDUs with Alternating Phase outlets, which distribute phases on a per receptacle basis, providing tangible benefits in the form of shorter cable runs, resulting in better airflow, easier load balancing, and greater efficiencies. Prior to the advent of HDOT, Alternating Phase products were impractical to build due to the low outlet density inherent with discreet commercially available outlets.



PRO2 - Server Technology built the HDOT Switched PDU on our new PRO2 platform, a flexible and feature rich hardware and firmware platform with higher on board compute power, support for all modern security protocols, redundant features, and advanced customization all built into the product. The new PRO2 architecture is ideal in any situation where reliability and uptime are important, particularly in high temperature and high security applications. With PRO2, customers can maintain uptime with access to current data and future trends.



Customers will also have the option of creating their own custom HDOT Switched PDU with the Build Your Own PDU configurator (http://www.servertech.com/byopdu), an online tool that customers can use to design a PDU to their requirements. The "Build Your Own PDU" configurator enables a customer to build a HDOT Switched, Smart or Metered PDU, in Eight Simple Steps. The Eight-Step process is user friendly and guides you graphically through selecting voltage, amperage, phase, plug type, input cord orientation, outlet configuration, connectivity and colors. With thousands of configurations possible, the customer is sure to find exactly the right product for his application.



About Server Technology

Server Technology's power strategy experts have provided power solutions for labs, data centers, branch offices and telecommunications operations for 30 years. Over 60,000 customers around the world rely on our cabinet power distribution units and award winning power management solutions to reduce downtime, facilitate capacity planning, improve energy utilization, and drive efficiency. With the best quality, best technical support and most patents, Server Technology products provide uncompromising reliability, innovation, and value for the datacenter. Only with Server Technology will customers Stay Powered, Be Supported and Get Ahead. www.servertech.com



Video - http://origin-qps.onstreammedia.com/origin/multivu_archive/PRNA/ENR/180132-Server-Technology-Inc-All-in-1-PDU.mp4



CONTACT:

Sandi Renden

Head of MKTG

Server Technology, Inc.

775-284-2000 x260

sandi.terry@servertech.com



Web Site: http://www.servertech.com

More from Software