Data Storage Systems deliver 4 million IOPS performance.
Press Release Summary: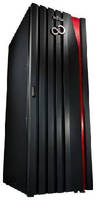 Featuring scalable design, ETERNUS DX8700 S3 and DX8900 S3 are built for enterprises that demand peak performance up to 4 million IOPS, capacity up to 14 PB, enterprise-class resiliency, and always-on availability. With automated quality of service management, performance levels can be allocated according to business priorities. ETERNUS DX models are suited for consolidating data into one system, such as online transaction processing, file services, business analytics, and/or Big Data.
---
Original Press Release:

Fujitsu Debuts the World's Most Scalable and Powerful Storage Systems



MUNICH, -- Fujitsu is enabling enterprises to push beyond the boundaries of unpredictable data growth into the double-digit petabyte range, with the introduction of the new FUJITSU Storage ETERNUS DX8700 S3 and DX8900 S3. Massively scalable, the new flagship of the ETERNUS DX family is purpose-built for enterprises that demand outstanding storage peak performance of up to 4 million Input/Output Operations per Second (IOPS) and a huge capacity of up to 14 petabytes, paired with enterprise-class resiliency and always-on availability.



Fujitsu's new enterprise storage systems are also differentiated by unique automation and zero-downtime functions that set a new milestone in business-critical storage by guaranteeing maximum system utilization and contributing to a faster return on investment. With automated quality of service management, system performance levels can be allocated according to business priorities. This technology can also be used to support service level management for virtual servers. The brand new system architecture can cope with multiple component failures without any interruption to service. In conjunction with the unique transparent failover feature - ETERNUS Storage Cluster [ http://www.fujitsu.com/global/products/computing/storage/disk/eternus-dx/feature/failover.html - non-stop operation despite a complete system or site failure is guaranteed.



Kenichi Sakai, Senior Vice President and Head of Enterprise System Business Unit at Fujitsu, says: "Fujitsu is taking the lead in enterprise storage by delivering new dimensions of scalability, flexibility, automation and business continuity to underpin business-centric storage services. The new top-of-the-range systems, ETERNUS DX8700 S3 and ETERNUS DX8900 S3, are packed with innovations that will improve data management combined with greater efficiency resulting in future-proof platforms for storage consolidation in the data center."



The ETERNUS DX8700 S3 and DX8900 S3 solutions are perfect for consolidating data all into one system, such as online transaction processing (OLTP) and large-scale databases, file services, business-critical applications and business analytics and/or Big Data. They also provide ample capacity for any demanding virtualization environments. Extensive high-availability and disaster recovery capabilities make ETERNUS DX enterprise models the ideal storage systems for all business-critical data, and they fit perfectly in the private and public cloud environments of large-scale enterprises and service providers.



Pricing and availability

The FUJITSU Storage ETERNUS DX8700 S3 and DX8900 S3 will be globally available from August 1, 2015 via direct sales and certified channel partners. Prices vary by configuration and region.



Read the full release at: http://www.fujitsu.com/fts/about/resources/news/press-releases/index.html 



Media contacts

Godeke Harrack

PR Manager

Phone: +49-89-62060-3479

E-mail: public.relations@ts.fujitsu.com



About Fujitsu: http://www.fujitsu.com/in/about/index.html

More from Architectural & Civil Engineering Products