Data Storage System offers switchable RAID functionality.
Press Release Summary: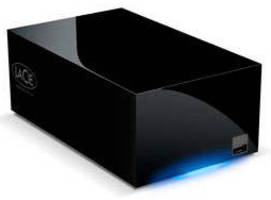 Offering 2 TB overall capacity as well as backup/formatting software, Hard Disk MAX includes two 1 TB disk drives that can be set in RAID 0 or RAID 1 configuration via switch on back panel. RAID 0 stripes data across both disks for fastest data retrieval response time, while RAID 1 mirrors data exactly on both disks for maximum data reliability. Additionally, front USB 2.0 expansion port can be used to link to another external drive for data backups.
---
Original Press Release:

LaCie Hard Disk MAX: Expanding More Than Just Capacity



Simple and efficient dual-disk USB storage

RAID for high-performance and maximum reliability

Hub port feature

Complete software bundle for easy formatting and backup

Today LaCie announced its Hard Disk MAX high capacity storage system for users who want advanced RAID features with consumer-level ease of use and style. Designed exclusively for LaCie by award-winning industrial designer Neil Poulton, the Hard Disk MAX delivers 2 TB (terabytes) of ultra-reliable storage capacity in a stunning package that will satisfy high-performance requirements for the discriminating user.

The Hard Disk Max includes two large-capacity disk drives that can be set in either a RAID 0 or RAID 1 configuration with the simple flick of a switch on the back panel. RAID 0 stripes data across both disks for the fastest data retrieval response time, while RAID 1 mirrors data exactly on both disks for maximum data reliability.

"Our Hard Disk Max is the ideal mass-storage product for users looking for high performance and data protection," said Lise Manteau, LaCie's Consumer Hard Disk Drive Product Manager. "Its elegant design and ease of use, combined with its competitive price, will appeal to users who have ever-growing data storage requirements."

Users can effortlessly configure the pair of high-speed 1 TB drives in the RAID setting of their choice. Included with the Hard Disk Max is the LaCie Setup Assistant for quick, easy and customizable formatting of the disk drives. The system also ships with Genie Backup Assistant for PC and Intego Backup Assistant for Mac.

The front USB 2.0 expansion port on the sleek, all-black polished-mirror enclosure can be used to link to another external drive for data backups. The multi-purposed blue LED stripe provides ambient light and changes to red to warn of potential problems.

The Hard Disk Max comes with the exclusive LaCie One Year Unlimited Online Backup service, which provides unlimited online backup for one full year after installation is a complete.

Availability
The LaCie Hard Disk MAX designed by Neil Poulton is available worldwide through the LaCie Online Store or LaCie Resellers at the suggested retail price starting at $269.99 USD. For more product information, visit www.lacie.com.

About Neil Poulton
Neil Poulton was born in Thurso, Scotland. A graduate in Industrial Design from Edinburgh University and Milan's Domus Academy, Poulton first came into public view in 1989 as the creator of "the ageing pens," pens made from a "living," wearing plastic that changes color and form with use. Today, Neil Poulton designs and develops best-selling, award-winning products for a variety of international clients including LaCie & Artemide. Since 1991, Poulton has lived and worked in Paris, France. www.neilpoulton.com

About LaCie
Located in the US, Canada, Japan, Australia, Europe, Singapore and Hong Kong, LaCie is the leading manufacturer of computer peripherals for PC, Apple and Linux users. LaCie creates external storage solutions and color monitors that help professionals and everyday users easily manage their digital lives. LaCie has differentiated its products through original designs and leading-edge technology. Established in France in 1989, LaCie is listed on Euronext under FR0000054314 (LAC). For more information, visit www.lacie.com.

Contact LaCie
Sales Inquiries: Direct Sales, 503-844-4502, sales@lacie.com
Reseller Sales, 503-844-4500, sales@lacie.com

*1TB (Terabyte) = 1000GB. 1GB = 1,000,000,000 bytes. Total accessible capacity varies depending upon operating environment (typically 5 - 10% less).

Copyright © 2008 LaCie, 22985 NW Evergreen Parkway, Hillsboro, OR 97124

More from Agricultural & Farming Products